LPM magazine: March 2014, issue no. 2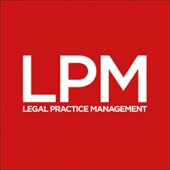 Cracking the COFA conundrum...
Find out how innovation, agility and business-thinking are transforming the UK SME legal market – and get the latest on reports, analysis and thought leaders.
In legal, vision failure has become all too common. But this can be changed. Some SME firms are forging ahead, innovating and competing their route to a more businesslike future. We've unearthed the stories of innovation and nimble thinking at the heart of those firms; share in that knowledge, transformation and ingenuity at the heart of legal.
What's in this month's issue?
Feature: LPM magazine reports on the COFA role in SME legal business – with views from compliance heads at Beetenson and Gibbon, Atherton Godfrey, BrookStreet des Roches, Douglas-Jones Mercer, PJH Law and HallmarkHulme, about what firms should and shouldn't be doing to get compliant; what they do and do not know; and why risk isn't just for COFAs, it's for everybody at your firm, all the time.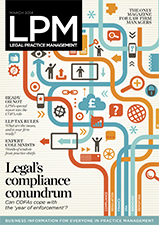 Practice Makes Perfect: Meet the man at the practice director's desk at one of the country's biggest legal aid firms – Adam Makepeace of Tuckers on the fight for efficiency and profitability against a harsh landscape of legal aid cuts.
The columnists: Richard Hill, practice director and chair of the ILFM, on stakeholder input and external investment; Emma Sell, practice manager at niche HR firm BDBF, on true employee engagement; while Jitendra Valera of Advanced Legal focuses on the looming cloud; Natasha Rawley, The File Queen of ADDS, on when scanning goes wrong; and introducing Alan Cousins, practice director at Paris Smith, on a fixed-fee future.
In practice: HR Agony Aunt, Polly Jeanneret, on overqualified candidates, office bullying, and flexible working on paternity leave; 'Managing to Manage', reviewed by practice director John Wade; plus pictures from our launch in Bristol, and a recap of this month's news, reports and research.
Industry views: Jamie Abrahams of Harold Benjamin talks 'co-sourcing' with DictateNow and reforming workflows for the better in this month's case study. And Nagib Tharani of Clio gives his insight on usable, engaging legal business software, and how the cloud will convert your business.
Sign up to receive LPM magazine every month
>> Missed an issue?
Visit the LPM magazine home page where you'll be able to download all our back issues.
Download the LPM media pack to find out how you can be involved in LPM magazine's future.
Any problems?
Having problems downloadind LPM magazine? Email David or Stella and we'll email you a copy instead.