LPM magazine, March 2015 – Intelligent future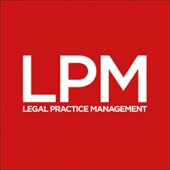 The future has landed
Technology just can't stay out of the headlines these days, and it's no different for the legal sector – we look into how firms are phasing in that new era through artificial intelligence. Yes, the 'thinking computers' have arrived.
What's in this month's issue?
Feature: The power of technology is already transforming our lives. But what if that tech could learn, automate more than you can imagine, and understand what you ask of it? We talk to one of the people bringing artificial intelligence to the legal sector: AI expert Dr Katie Atkinson of the University of Liverpool.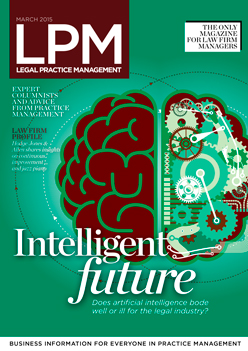 Law Firm Profile: Patrick Allen of SME heavyweight Hodge Jones & Allen talks innovation and continuous improvement at his firm – and how embracing change is pushing the business forward.
The columnists: Barry Davies, practice director at Douglas-Jones Mercer, on the potential culture shock of office space change; Alan Cousins, practice director at Paris Smith, on protecting your firm against risk; introducing Nigel Kidwell of Paragon LawSelect, who covers crisis management – and how to be better prepared; Joanna Swash of Moneypenny sets law firm brands a renewed challenge; The File Queen Natasha Rawley of ADDS takes us to the next step of information governance with her latest tool; and Jitendra Valera of Advanced Legal, on wearable technology coming to a law firm near you.
In practice: Mark Briegal of Aaron & Partners reviews The Effective Change Manager's Handbook, and puts the theory to the test; HR Agony Aunt Polly Jeanneret covers younger apprentices, tackling bullies and extracurricular concerns; Your View looks at the state of legal aid firms; plus our monthly recap of the news, reports and research that matter.
Industry views: Jaime Lockwood of Morrish Solicitors talks going beyond paper and into a more digital future with Arena Group.
>> Missed an issue?

Visit the LPM magazine home page where you'll be able to download all our back issues and to sign up to receive LPM magazine every month.
Download the LPM media pack to find out how you can be involved in LPM magazine's future.
>> Any problems?
Having problems downloading LPM magazine? Email David or Phoebe and we'll email you a copy instead.