LPM magazine: Life as a law firm manager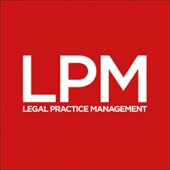 Opportunity knocks
In this issue, LPM delves into life as a law firm manager – can finance people make good practice managers/directors? What's it like to move from running a chambers to being operations head of one of the most talked-about SME legal businesses? Where can you find advice and guidance on running the finance and admin side of a law firm? Should you outsource your firm's IT? How do you avoid getting a nasty fine for mishandling client data? Should your firm become a limited company? And if you do personal injury work, what kind of business should you be running to become successful? Find out what management across the country are doing to survive and thrive in a tough market.
What's in this month's issue?
Feature: LPM magazine talks to Riverview head of operations Jeremy Hopkins – about change both personal and professional, the future of people in SME legal, and turning a profit at an unprecedented time of transformation in the market.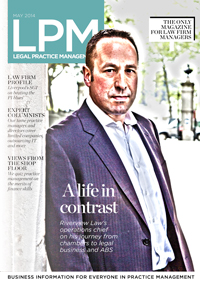 Law Firm Profile: Liverpool-based ABS SGI Legal tells LPM about going from Kirwans management to starting a new kind of PI business, how it's getting ahead, and why technology is at the core of the firm's success. Managing partner, Simon Gibson, talks us through the journey, its growth and its future.
The columnists: Alan Cousins, practice director at Paris Smith, on IT outsourcing; Richard Hill, practice director and chair of the ILFM, on firm incorporation; Jitendra Valera of Advanced Legal on user engagement and consumer-style tech at work; Natasha Rawley, The File Queen of ADDS, on securing client data and disaster recovery.
In practice: HR Agony Aunt, Polly Jeanneret, takes on office banter, out of hours email, and helping your people through difficult times; plus, the Law Firm Finance and Administration Handbook gets a going over by Douglas-Jones Mercer practice director Barry Davies; as well as our monthly recap of news, reports and research.
Industry views: Paul Stothard of Tees Law talks agility and IT in the cloud with e-know.net; and Russell Thomson at Eclipse Legal Systems outlines a vision of better client service.
>> Missed an issue?

Visit the LPM magazine home page where you'll be able to download all our back issues and to sign up to receive LPM magazine every month.
Download the LPM media pack to find out how you can be involved in LPM magazine's future.
>> Any problems?
Having problems downloading LPM magazine? Email David or Stella and we'll email you a copy instead.