LPM magazine, May 2015 – People power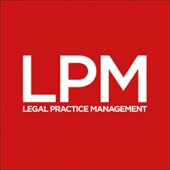 Faster times
Starting out life in the not-so-friendly post-recession wasteland, personal injury specialist Roberts Jackson has gone from strength to strength. This month we speak to CEO Karen Jackson about that success story, and how these faster times have landed the firm No 27 in the Sunday Times Fast Track 100. It's a tale of people, skills – and people skills. Oh, and a whole lot of training.
What's in this month's issue?
Feature: Is there a secret to rapid growth in legal? There just might be – but according to legal businesswoman of the year 2014 CEO Karen Jackson, co-founder of Roberts Jackson Solicitors, every firm can do it. We find out how.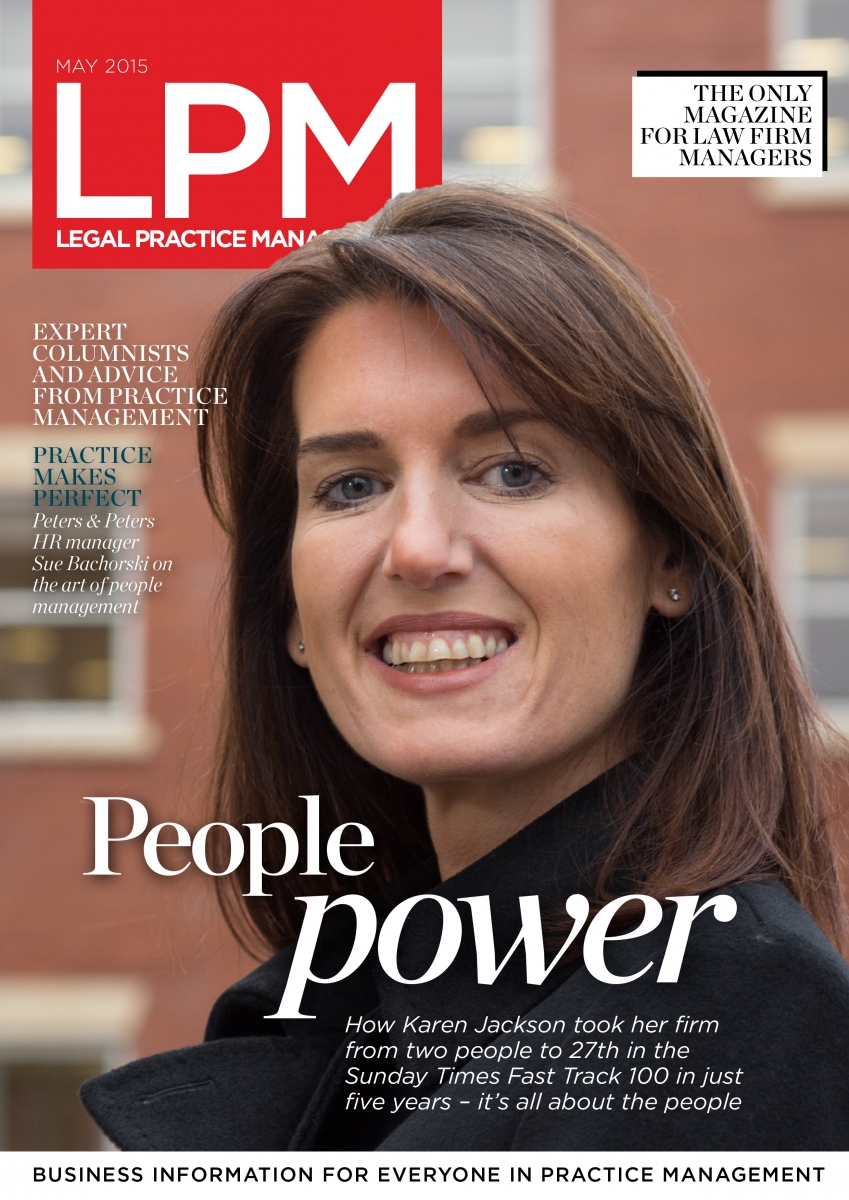 Practice Makes Perfect: HR at Peters & Peters is an art – fortunate then that HR manager Sue Bachorski at the City boutique knows how to mix business with her passion ...
The columnists: Jane Pritchard, systems and BD manager at TV Edwards, on taking paperless policy to her firm; Barry Davies, practice director at Douglas-Jones Mercer, on the fear and trembling of public speaking; Nigel Kidwell of LawSelect on adapting to changed civil procedure rules; Joanna Swash of Moneypenny on living your values in client service; The File Queen Natasha Rawley of ADDS on facing up to a digital future in data management; and Doug Hargrove of Advanced Legal on disaster recovery for SME law firms post-Holborn fire.
In practice: John King of Asons Solicitors reviews Kapferer on Luxury, and ruminates on legal marketing and the five-star treatment; HR Agony Aunt Polly Jeanneret takes on Clarkson, conflict and candor; Your View asks whether the referral fee ban should be lifted as the SRA opens up fresh debate on the issue; plus our monthly recap of all the news, reports and research that matter.
Industry views: Maria Clancy of Lester Morrill tells us how unifying print and copy infrastructure with Arena Group is driving productivity and cutting costs at her firm. Innovation in how firms structure document production can improve productivity, says Trevor Hoggard of Winscribe – and that will mean stronger profits A clearer view of team financials through Exen has transformed the way Harold Benjamin operates – Jamie Abrahams tells us how. Some law firms struggle to deliver their message and mission online – Guy Davies of FindLaw UK gives SME legal a few hints to restart their digital marketing engines.
>> Missed an issue?

Visit the LPM magazine home page where you'll be able to download all our back issues and to sign up to receive LPM magazine every month.
Download the LPM media pack to find out how you can be involved in LPM magazine's future.
>> Any problems?
Having problems downloading LPM magazine? Email David or Phoebe and we'll email you a copy instead.