LPM magazine: Safety in numbers? October 2014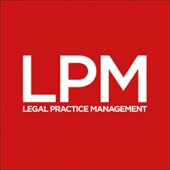 Safety in numbers?
Most legal businesses consider themselves a safe pair of hands when it comes to delivering great value and service to clients – but in the evolving business world, where 'digital' means big opportunity (and potentially bigger losses), tightening up information security, both on screen and on paper, is now essential.
This month, we find out about information security inside legal business – who the threats are, how they operate and what you can do to avoid your business tipping from a safe pair of hands into digital disaster.
What's in this month's issue?
Feature: LPM magazine unmasks the cyber threat in this month's special feature on information security – with views and comment from experts and business leaders at EMW, Clarion, Bowden Jones, Joseph Frasier and experts at the UK's first ethical hacking courses in Abertay University and Coventry University.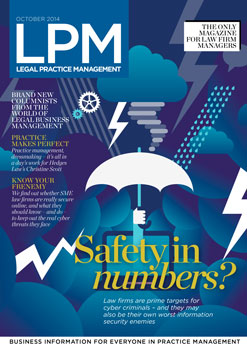 Practice Makes Perfect: Skilled dressmaker and practice manager Christine Scott of Oxfordshire firm Hedges Law talks tailoring the modern SME legal business to changing times.
The columnists: Introducing Glyn Morris, FD at Black Country firm Higgs & Sons, who tackles security of a different kind – client money and banking; Barry Davies, practice director at Douglas-Jones Mercer, on Lexcel challenges; Alan Cousins, practice director at Paris Smith, on driving out discounting; Jitendra Valera of Advanced Legal, on rethinking process, not just resourcing; and Natasha Rawley, The File Queen of ADDS, in the first part of her information chaos series.
In practice: Barry Davies of Douglas-Jones Mercer, reviews the Lexcel Small Practice Toolkit from the Law Society; Your View on whether Lexcel accreditation is really worth it; plus our monthly recap of the news, reports and research that matter.
Industry views: Helen Belcher of Aurum Solutions on data reconciliation and efficiency; Osman Ismail of DPS Software on why cloud means progress for SME; and Tim Nash at Edwin Coe on building capability with Thomson Reuters Elite Envision.
>> Missed an issue?

Visit the LPM magazine home page where you'll be able to download all our back issues and to sign up to receive LPM magazine every month.
Download the LPM media pack to find out how you can be involved in LPM magazine's future.
>> Any problems?
Having problems downloading LPM magazine? Email David or Phoebe and we'll email you a copy instead.