LPM magazine: Your world in numbers, September 2014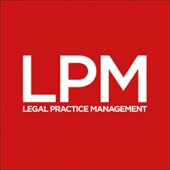 Your world, in numbers
SME legal needs to effect real change in management structures to becoming more capable and more competitive businesses in the future. That starts at the top, and should be reflected in both executive and non-executive positions. In this issue, we analyse the research carried out at the LPM 2014 conference and find that those SME legal leaders in attendance agree – the market is facing great change and they have to adapt to it. How the market goes about that change has surfaced some surprising results ...
What's in this month's issue?
Feature: LPM magazine digs under the surface of this year's conference research and previews findings ahead of the full report, sponsored by DPS Software, later in September – including views and reactions from people at Burnett Barker, Darbys and the Solicitors Regulation Authority.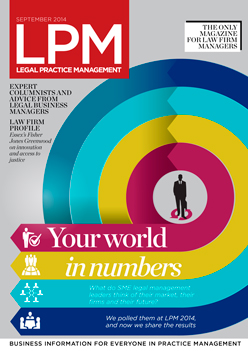 Law Firm Profile: Managing partner Paula Fowler at Essex and London-based firm Fisher Jones Greenwood tells its story, going from grassroots and greenshoots to genuine growth and innovation.
The columnists: Introducing Barry Davies, practice director at Douglas-Jones Mercer, taking on PII renewal in his debut column; Emma Sell, practice manager at niche HR firm BDBF, on seeing from the client's perspective; Richard Hill, practice director and chair of the ILFM, on succession planning for continued success; Jitendra Valera of Advanced Legal, on the future of apps in legal; Janine Parker of insurance broker Paragon with the inside view on PII pricing; Natasha Rawley, The File Queen of ADDS, on how to ensure you treat wills and deeds properly.
In practice: HR Agony Aunt, Polly Jeanneret, covers avoiding the jargon, flexible working and delegating better; Organisational change and project manager at Higgs & Sons, Krishna Balthu, reviews Smarter Pricing, Smarter Profit by Stuart JT Dodds; Your View on whether flexible working will hurt or hinder SME firms; plus our monthly recap of the news, reports and research that matter.
Industry views: Stephen Latter of BigHand on the efficiency wins of digital dictation; Mark Jacobsen of FindLaw UK from Thomson Reuters on strengthening your online presence.
>> Missed an issue?

Visit the LPM magazine home page where you'll be able to download all our back issues and to sign up to receive LPM magazine every month.
Download the LPM media pack to find out how you can be involved in LPM magazine's future.
>> Any problems?
Having problems downloading LPM magazine? Email David or Phoebe and we'll email you a copy instead.