Totum significantly strengthens its specialist law firm management recruitment offering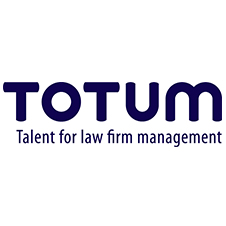 Totum, the leading law firm management recruitment agency, has announced a number of significant developments that will enable it to better service the needs of its clients in the rapidly evolving legal recruitment market.
The developments are:
The recruitment of Kerry Quinn: Kerry is a senior lawyer with 20 year's experience of working in-house and in private practice. Prior to joining Totum, Kerry worked for Unilever as an in house lawyer. Kerry will be responsible for leading Totum's new team focused on emerging, operational management and specialist roles, including project and process management and risk.
The recruitment of Harriet Brown: Harriet is a senior HR professional with 15 year's experience of working for law firms and other leading organisations. Prior to joining Totum, Harriet worked for Wilmer Hale as a senior HR Manager. Harriet will be working with Laura McNair who leads Totum's new specialist HR recruitment team. Laura has 15 year's experience specialising in HR recruitment.
The recruitment of Georgia Girling: Georgia is a recruitment consultant with significant legal sector experience. Prior to joining Totum, Georgia worked for Venn Group, where she specialised in legal recruitment. Her experience also includes working as a paralegal at the law firm, Fisher Meredith. Georgia will be working with Jessica Sharpe who leads Totum's specialist Finance recruitment team. Jessica has 15 year's finance recruitment experience.
The recruitment of James Rosenthal and Zain Jussab: James has over 10 year's recruitment experience, most recently as Head of Professional Services Marketing at Resources Group. James will be working with Rebecca Ellis who leads Totum's specialist BD and Marketing recruitment team and will focus on recruiting at mid to senior levels. Zain will join the team which focuses on recruiting Business Development and Marketing executives, which is now led by Roisin Griffin, who has nine year's recruitment experience across a broad range of sectors.
A new appointment for Liz Fletcher: Liz has been at Totum since 2012 and has recently taken up a new role focussing on the recruitment of business support professionals into law firms across a range of international locations including Asia, South Africa, Europe and the Middle East. Prior to joining Totum, Liz worked in marketing for the leading international law firm, Latham & Watkins.
The doubling of Totum's office space in the heart of the City of London to accommodate this expansion and provide better services and facilities to its clients.
Tim Skipper, Gary Jones and Debbie Gray will continue to recruit at director level across all functional areas, including general management, marketing/business development, IT, knowledge management, risk and human resources.
Tim Skipper, Totum Managing Director, commented:
"As UK and international market conditions continue to improve, we are witnessing greater activity in law firm management recruitment, both in the traditional functions and in new roles such as project and process management. We are delighted that Kerry, Harriet, Georgia, James and Zain have joined Totum. Their first-hand experience of the legal market strengthens and builds on that of our existing team and enhances the specialist service that we are able to offer to our law firm clients at a time where firms are investing more and more in top quality business services professionals to help them achieve their goals. This expansion will allow us to specialise more and to provide greater breadth and depth to the service we offer our clients"