Briefing Extra on law firm infrastructure : IT and facilities, strategy and the future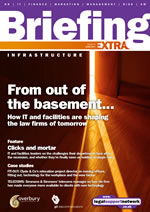 Covering the key business issues facing law firms, Briefing talks to everyone in business services and support about what's important to them in their careers in law firms. Briefing Extra is a new supplement aimed at a small number of core law firm roles - this issue is for IT, comms and facilities.
Briefing Extra on: law firm infrastructure - IT and facilities
In our first supplement to LSN's market-leading e-zine, Briefing, we find out if firms are listening to their IT and facilities leaders, and what those leaders think lies in their future - from virtual desktops to the hidden benefits of an office move, from choosing a fit-out firm to using presence technology to make staff more available to clients.
Extended, independent feature: Strategic moves
Briefing Extra speaks to IT and facilities leaders about the challenges their units face after the recession, and finds out if firms are finally giving them the strategic recognition they deserve. Interviews with IT and facilities people at A&O, Tollers, Finers Stephens Innocent, IBB Solicitors and more
Special feature-length case studies
In search of the wow factor : Briefing Extra speaks with Clyde & Co's relocation project director Paul Way about moving office and choosing the right fit-out team for a top-tier law firm. Way tells us why Clyde chose Overbury for fit-out, and what's really important in moving a law firm to a new office.
How a network can reshape a law firm : Simmons & Simmons' telecoms manager Ian Walker talks to Briefing Extra about how the firm is making lawyers and business services people more available, to each other and to clients – and how G3 Telecommunications helped the firm achieve this.
Download your copy now for FREE
Download the Briefing media pack