Briefing on Risk and Compliance | Exclusive interview: Tom Arrowsmith at Olswang plus much more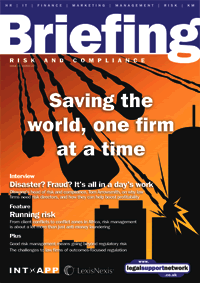 Briefing - the best and only legal business services magazine
Covering the key business issues facing law firms, Briefing talks to everyone in business services and support about what's important to them in their careers in law firms.
Briefing on risk and compliance
Why are there so few risk directors in law firms?
What kind of person should be managing risk at your firm?
What are the risk pressure points in 2011?
And what are the risks that your firm is missing?
This issue of Briefing is all about risk and compliance, and we hope to answer these questions, and much more.
This month's in-depth, independent editorial:
Exclusive interview: Tom Arrowsmith, head of risk and compliance at Olswang, talks to Rupert White about why law firms need risk directors, how to deal with outcomes-focused regulation, and why risk teams can make firms more profitable.
Feature article: From client conflicts to conflict zones in Africa, risk management is about a lot more than just anti-money laundering. Lucy Trevelyan talks to risk heads in top firms to dig out what risk lie beyond AML and regulatory compliance, and
why it's the job of the risk director to deal with them.
Plus:
Analysis: Brian Lynch at IntApp on why risk management is more than regulatory compliance'
Analysis: Colin McArdle at LexisNexis on how outcomes-focused regulation might affect law firms, and what they can do about it'
Download your copy now for FREE
Download the Briefing media pack