Earth has not anything to show more fair - the London litigation market
ARTICLE BY MARK HUSBAND FROM COGENCE SEARCH
TripAdvisor has declared London the 'number one destination on Earth' for 2016, beating Paris, New York and Rome for the honour. For international corporates, London is an attractive jurisdiction in which to litigate or arbitrate disputes, offering quality legal services as well as a multinational/ multilingual talent pool, a variety of funders and funding options, top-tier hotels and cultural attractions.
London dispute resolution
We sought the views of four leading disputes practitioners on both the merits of London/UKbased litigation and the direction of the market.
Natasha Harrison, London managing partner at Boies, Schiller & Flexner in London, feels: 'London is a safe, neutral and sophisticated jurisdiction in which to litigate a dispute. It provides a high-quality judiciary, and can offer consistency and predictability of outcome to a greater degree than may be found in other jurisdictions. The Financial List is a game changer in high-stakes and complex financial services disputes, and my clients' experiences of it to date have been entirely positive.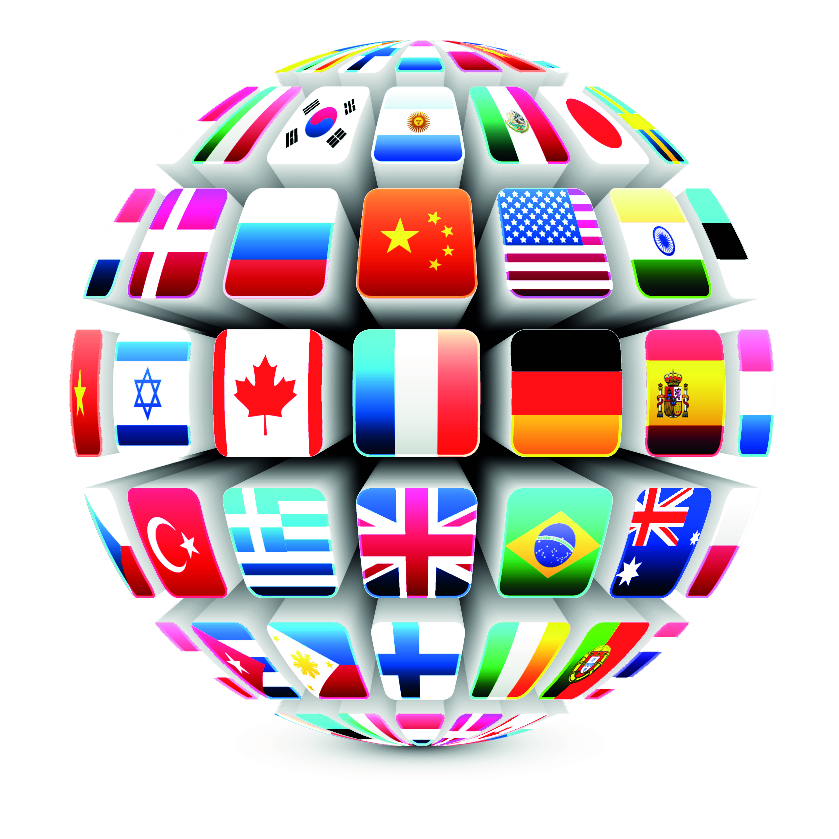 'Litigation is now a truly international field. Modern technology means that it really does not matter where people are physically based. Much of our work has no London nexus, but because of the advantages available to clients in the London market and our ability as a firm to offer highly innovative and flexible funding options, we attract work from a global client base.'
Belinda Hollway, head of the London office at Scott + Scott, points out that the UK has some way to go in the evolution of its litigation regime in terms of both damages-based fee agreements and class actions. She believes there is a fear that class actions are 'anti-business' but that, in reality, many claimants are likely to be businesses. From the wrongdoer's point of view, a class action allows them to achieve certainty and finality to an issue rather than face several years with an unquantified contingent liability on their books.
She says: 'When I met with David Scott and his fellow partners, it was clear that they had performed their due diligence on the London market. They had identified a real opportunity for a firm with very high technical and professional standards to provide a claimant antitrust litigation service. While there are some firms doing this work to a high standard it was felt that we could add something unique to the market.'
Mathew Rea, a dispute resolution partner with Bryan Cave, notes that, at a certain level, dispute resolution ceases to be about local laws and becomes about the capacity of a team to co-operate across multiple offices effectively.
'Very few of our matters have English parties. The minority have UK litigation or arbitration clauses. I am very keen that we work smoothly and cooperatively across all our offices to provide the same very high-level dispute resolution service to our clients, whatever the nature or location of the dispute.
'The notion of "project managers" within litigation or arbitration practice groups, or the idea of having dispute resolution teams of 20 lawyers working on a single case, does not seem to me to be helpful. The objective is to reduce a dispute, however large and complex, to a set of key facts that can be absorbed and determined by a single judge or three members of a tribunal. I don't see very large teams in litigation as being at all helpful to this aim.'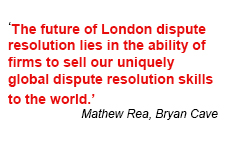 William Cruft is a specialist counsel in energy disputes and has worked at Ince & Co, Watson Farley & Williams and Norton Rose. He is part of a rising group of independent solicitor-consultants with the experience and expertise to manage large complex disputes, whether in-house or in private practice, and provide skills on a dispute-specific consultancy basis. In his view:
'Clients are looking for day-to-day input from partners and senior associates with genuine sectorspecific expertise, and the involvement of squads of junior lawyers can be unwelcome. In my experience, sizeable energy and offshore disputes are most cost-effectively conducted with a streamlined senior legal team – partner, senior associate and userfriendly barrister – with low-cost paralegal document support as required."
The future
The London litigation market is inevitably moving towards a more American 'risk and reward' model. Belinda comments: 'It is peculiar that we tend to look up to Magic Circle partners earning millions while exposed to little or no risk and yet look down on lawyers who earn similar sums by adopting a substantial portion of the risk in the cases they conduct.' Clearly she is correct and the notion that lawyers can and should have 'skin in the game' is widely accepted.
Rea adds: 'The future of London dispute resolution lies, in my view, in the ability of lawyers and firms to sell our uniquely global dispute resolution skills to the world at large and be adaptable to crossing jurisdictional boundaries, which are often irrelevant to the businesses concerned.'
The 'hourglass' model of employment envisioned by Paul Sissons (The Hourglass and the Escalator, The Work Foundation, 2011) is coming to fruition in the staffing of many law firm departments. As Cruft notes above, heavy partner matter management, limited associate numbers and large pools of low-cost paralegal staff seem to meet the immediate demands of fee pressure and profitability. Where litigation or arbitration is unavoidable, it makes sense to have the dispute conducted in an impartial, sophisticated, cost-effective and, most of all, pleasant location.