How failure leads to success
Last week I failed at something. Like most people, I hate failing and try to ensure that it rarely happens! Nevertheless on this occasion I did fail. This got me thinking about failure and strategies for coping with it.
The definitions of failure typically have very negative connotations:
• A lack of success
• Negligence
• Incompetence
Yet I don't believe failure to be a negative experience – I learn so much more from my failings than I do from my successes.
How can failure be positive?
When I fail, I analyse why. I break down what I did and how I did it to understand where I went wrong and what I could have done better. I do this many times looking from different angles – interrogating myself and asking others for their opinions to ensure that I am better prepared next time and don't make the same mistakes.
I also remember what I did badly far more than what I did well. In certain circumstances I also use my failures as examples when training juniors to highlight pitfalls and make sure they don't make the same mistakes.
When I succeed, I still ask myself what could I have done better, however, I don't analyse and over think my successes in the same way as my failures. Winston Churchill once said: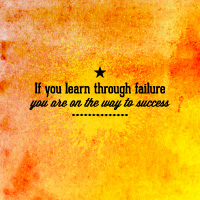 "Success is not final, failure is not fatal: it is the courage to continue that counts."
I believe that the 'courage to continue' is key in ultimately turning our failures into successes. Pessimists become disheartened when faced with challenging situations and events, allowing them to negatively influence their thoughts and self-belief. However, optimists turn a failure into a learning experience and I am an optimist!
So rather than wasting time and energy dwelling on mistakes it is far more valuable to look objectively at what we have learnt from the experience. In other words, be an optimist.
Optimists see challenging situations as temporary and only related to one area of their life. An optimist will look at what they have learnt from a failure or knockback and use this knowledge to adjust their approach and try again and again and again!
"I have not failed. I've just found 10,000 ways that won't work."
- Thomas A. Edison
The upside of optimism
One good example of how staying positive and optimistic can pay off in the end involves Trunki suitcases.
Inventor Rob Law MBE made an appearance on BBC2's Dragon's Den in 2006. During the programme one of the panelists broke the strap of a sample Trunki. They belittled his idea and focused a lot on the broken strap (an easy thing to fix). Law left the Den with no funding. However by June 2012 his Trunki suitcases were appearing in some of the biggest retailers (including John Lewis, Harrods and Next) in over 60 countries.
Law didn't give up after he failed to receive funding. Instead, he remained optimistic, viewed the experience as a temporary setback, refined his idea and went on to achieve great things. You can apply the same positive mindset to your own failures and turn them into eventual success stories. Rather than giving up when you fail to reach your goals, ask yourself "what can I learn from the experience to help me reach these goals in the future?"
For example, if you fail to get a promotion at work, do you ask your manager what else you need to do in order to get one? Or do you just continue to carry out your same role in the same capacity and hope that next time you might get noticed?
Do you constantly ask yourself "is there anything more I could be doing to help me reach my goals"? If not, you should!
Adopt a positive mindset
In the words of Michael Jordan:
"I've failed over and over and over again in my life and that is why I succeed."
So, rather than dwelling on my own experience of failure and feeling disappointed I am instead focusing on the positive things I learnt from the experience - that I am strong both physically and mentally and that next time I will be better prepared to succeed because I am an optimist!
Learn from your failures and use them to spur you on to do bigger and better things!
P.S. If you want to know what I failed at, get in touch with me (sally.clare@ambition.co.uk) - it involves my dad, 2 bikes and the 19th Stage of the Tour de France…
ARTICLE WRITTEN BY SALLY CLARE, HEAD OF DIVERSITY AT AMBITION