Law firms are struggling to recruit the talent they need, according to Clayton Legal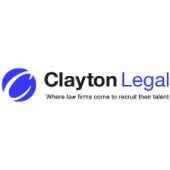 Clayton Legal reports that law firms across the country are struggling to recruit the talent they need – and it's not only because of chronic skills shortages. Without a strong employer brand firms aren't giving themselves a fighting chance of attracting and, more importantly, retaining the very best talent.
Lynn Sedgwick, Managing Director of Clayton Legal commented: "More and more we're finding that candidates want to see that a legal practice can offer more than a job and salary. They want to know what the culture is like, what the firm's ethos is and what other benefits they can expect besides their take-home pay – whether that's remote working, flexible hours, support or incentives – it's about law firms offering the whole package. As important as salary is, more and more solicitors are looking for firms that can offer genuine progression and high-quality, interesting work."
Legal employers are seemingly stuck between a rock and a hard place: facing huge skills shortages on the one hand and having to fight hard to draw in the best candidates. And with legal vacancies on the increase, it's not something that will be changing any time soon. In fact, Clayton Legal's research found that in the period from February 2017 to January 2018 there was a 20% increase in legal vacancies in both London and the North West. The South West saw similar increases, with demand for tax lawyers rising by 33%.
Lynn stressed the important role that an employer brand plays when recruiting legal professionals. "Employer branding is about showing candidates what your company can offer them, not just telling them. An international study by Randstad in 2017 found that 43% of people say that work/life balance is the most important factor to them. If you're finding that the right candidates are not responding to your vacancies you need to consider why that is. Perhaps it's not clear what you offer, or perhaps candidates don't believe your values align with theirs. It's tough, but legal practices need to consider what is putting candidates off their firm."
And with demand for different legal specialists varying all over the country there's no one-size fits all approach: "Firms must take an individual approach and not just copy what their neighbour or competitor is doing. Consider what your strengths are as a firm and in what areas you are lacking talent. London firms close to the City might want to play up the opportunities to do varied and challenging work in the financial sector, while a firm in the Midlands might want to emphasise flexible working and the fact that there is plenty of domestic work such as conveyancing to go around," commented Lynn.
With increased demand for legal professionals across virtually every area of the law and an ongoing skills shortage, it's unlikely that the war for talent will burn out any time soon. To attract and retain the best Lynn had this advice: "When it comes to recruiting talent, your existing legal staff are your best recruitment agents. Listen to them, learn from them and you'll stand the best chance of not only attracting the best but keeping existing talent too."