Talent strategies need developing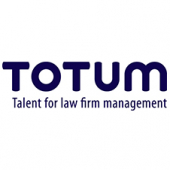 This resource was also featured as a Briefing Industry Interview in the November 2014 issue of Briefing magazine. To read the issue in full, download Briefing magazine.
----
A combination of massive market change and urgent economic crisis over the past five years has created a world where UK law firms are increasingly alert to how they could, and need to, make themselves more competitive. From the range of alternative fees to outsourcing options, boards are not just building notions of regular analysis and continuous improvement into their processes; they are embedding them within their cultures.
"Firms are recognising a need for people in their ranks who challenge, or even disrupt, the norm," says Totum's Debbie Gray. "With the legal landscape changing so much, it's about acquiring knowledge of how to run a business more like a corporate than a traditional partnership, and keeping a better eye on the numbers and using that management information more effectively to plan ahead."
This certainly supports Briefing's own research. Firms are looking for people with project and process management experience in particular – people to spot the opportunities that create a more efficient organisation.
Or at least that's what they say. But some firms just aren't being "brave enough" to invest in the recruitment of such talent strategically, says Gray. "Law firms can be uncomfortable recruiting people without legal sector knowledge, but they really need to look outside the sector in earnest now."
An option for the cautious is to trial hire first – and she cites Baker & McKenzie as an example of this route. "Some firms have recruited people on an interim basis, trialling a role in a part of the business. Other practice areas then decide they want it too.
"Some of the most innovative firms are even picking up talented individuals and trying to create a role around them, rather than the other way around. They might not fit a role actively being recruited, but the firm wants that talent available somewhere in the business. That can't happen in every case, but talented individuals will do a lot more for your business than someone shoehorned into a role they're not quite right for."
Totum is recruiting more business manager roles with a project management focus too – and firms are increasingly looking to appoint someone whose business background matches the sector in question – perhaps from an insurance company or media group, for example. These candidates won't typically have a law firm on their CV already, but they will often jump at the chance to make their mark at one. "The legal sector is quite attractive at the moment," says Gray. "As a profession going through lots of change, people will see it as a challenge and an opportunity."
But she says firms will definitely need to cast the net a lot wider to secure the ideal candidate – and quite possibly ditch certain assumptions about what makes a career history attractive. Strong candidates might have a lot more jobs listed, for example, as many careers are much more fluid now. "It may be very valuable to their careers for people with these skills to gain experience in a range of environments," she says.
It's important, therefore, to take steps to challenge the management mindset if necessary. "A firm may say they want something, but when the person they are presented with isn't versed enough in 'legal', the default position can be to doubt they were right," says Gray.
In short, firms need to have the courage of their initial convictions. If they want a different outcome, they need to embrace different perspectives.