Briefing magazine case study: legal proofreading made easy
This sponsored article was first published in: the knowledge management issue of Briefing magazine, July 2014.
Download the digital copy of the magazine.
___
Competition proof
Accurate documents are the bedrock of a successful law firm. Sam Luxford-Watts at Watson Farley Williams talks to Briefing about gaining a competitive edge with XRef drafting tools
Greater competition in the legal market and an increasingly cost-conscious client base is driving firms to produce work more efficiently – and to tighter timelines. As a result, building better processes into how legal businesses deliver work has become a necessity to meet these demands – but some areas have improved far more than others.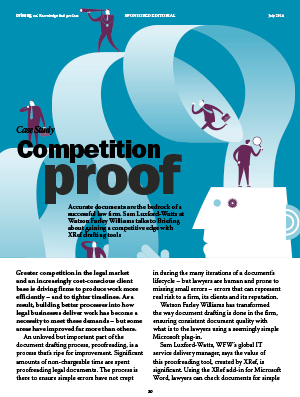 An unloved but important part of the document drafting process, proofreading, is a process that's ripe for improvement. Significant amounts of non-chargeable time are spent proofreading legal documents. The process is there to ensure simple errors have not crept in during the many iterations of a document's lifecycle – but lawyers are human and prone to missing small errors – errors that can represent real risk to a firm, its clients and its reputation.
Watson Farley Williams has transformed the way document drafting is done in the firm, ensuring consistent document quality with what is to the lawyers using a seemingly simple Microsoft plug-in.
Sam Luxford-Watts, WFW's global IT service delivery manager, says the value of this proofreading tool, created by XRef, is significant. Using the XRef add-in for Microsoft Word, lawyers can check documents for simple drafting errors at the click of the mouse. The tool is "slashing the time it takes to proofread documents, while ensuring they still meet the highest standards", says Luxford-Watts.
"A non-legal draftsperson would never know [proofreading] was such an issue – I certainly had no idea how much time was spent on it. XRef is a deceptively simple tool that cuts out two very time-consuming parts of the proofreading process prone to errors, particularly on long documents: it checks that definitions are defined and used consistently in a document, and it checks cross-references are correct.
"By focusing on just the key proofing tasks that lawyers would have to do themselves, XRef has sought to balance usefulness with simplicity. Errors such as undefined terms or incorrect cross-references can at best be an irritation used by the other side's lawyers to gain brownie points or to delay the process. At worst, it can leave ambiguities that can be damaging for the client and embarrassing for the firm."
The really big firms can afford sizeable proofreading teams, says Luxford-Watts. Tools like XRef give firms like WFW the same kind of power – in fact, access to the best possible quality end product, in document terms – as the biggest firm's team. "What seem like small, mundane errors provide loopholes for the other side to pick apart – it's happened in the past. And even the best proofreaders in the world can't catch everything."
WFW was already running a trial of a competitor's proofreading tool when a partner's suggestion led them to XRef. XRef is much easier for their lawyers, he says. "It does what it says on the tin. It's simple and easy to use. There are no bells and whistles that get in the way. It's not part of a bigger system, it just does the job in hand, rather than trying to be too clever with unrequired functionality that just makes a product difficult to use."
When XRef demoed the tool to partners, they were "shocked by the errors in their documents still found by the tool. But humans are fallible, and these are long and complex documents."
A key advantage to the XRef tool, he says, is drawn from the fact that it was developed by lawyers who've faced the proofreading challenge. "They understand the legal process, and that makes everything easier."
Luxford-Watts can't be sure that XRef's claim that it can shave 80% of comparable manual tasks is borne out in practice, at least not yet at WFW. But his firm appreciates the advantages this tool gives. XRef, he says, has the capability to save a huge amount of pain (and time) in the firm. The ability to carry out tasks like definition checks and cross-referencing automatically "will transform lawyers' lives", as they currently spend a lot of time manually trawling through documents, often with tired eyes under time pressure.
"Automated tools like XRef won't completely replace proofreading," he says, "but they make the process quicker, easier and less painful. You wouldn't proofread a document without at least running it through a spell checker first, and this is where XRef will fit into working practices – a version of the spelling/grammar checker, a tool that we have taken for granted for so many years, but for definitions and cross-references."
XRef, and tools like it, will become part of the standard legal desktop, says Luxford-Watts – because they will have to. "People are used to spelling and grammar check in Word – it's only a matter of time before people in legal come to rely on this kind of technology as well."