HighQ positioned as a visionary in magic quadrant for content collaboration platforms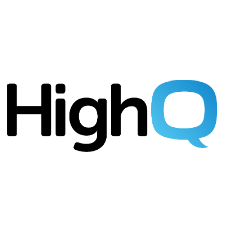 HighQ, a global leader in providing collaboration software, today announced that Gartner, Inc. has positioned HighQ as a Visionary in its 2018 Magic Quadrant for Content Collaboration Platforms*. This is the first year HighQ has appeared in the Visionaries quadrant.
Gartner states that the Content Collaboration Platforms (CCP) market covers "a range of products and services that enable content productivity and collaboration. CCPs are aimed at individuals and teams, inside or outside an organization. Additionally, CCPs increasingly support lightweight content management and workflow use cases."
In addition, these platforms support, at different levels, collaborative document creation and teamwork, lightweight content management, and workflows, natively or through integration with third-party tools. Deployments can be in public cloud, hybrid cloud, private cloud or on-premises architectures.
The report evaluated 14 different software vendors based on their completeness of vision and ability to execute. According to Gartner, "Content collaboration platforms can transform how individuals and teams work. Inside or outside organizations, they add structure and insight when collaboration involves unstructured data."
"We are thrilled to have been positioned as a Visionary in this Magic Quadrant," said Stuart Barr, Chief Product and Strategy Officer for HighQ. "We have been working hard to evolve our collaboration, project management and workflow capabilities to empower our customers to solve ever more complex problems and it's inspiring to see how our platform is transforming the way people work."
Ajay Patel, Co-founder and Chief Executive Officer for HighQ, added, "We are honoured to have received this recognition and believe it demonstrates our strong commitment to product innovation as well as our continued growth and maturity as a company. We're determined to stay on the leading edge and drive real business transformation with our customers."
* — Gartner "Magic Quadrant for Content Collaboration Platforms" by Monica Basso, Karen A. Hobert and Michael Woodbridge. July 9, 2018.
A complimentary copy of the full report is available on the HighQ website here.