HighQ successfully transitions to ISO 27001:2013 standard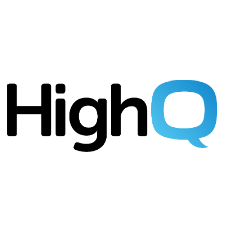 London, UK – 17 Nov, 2015: HighQ, leading provider of enterprise cloud collaboration and content management software, has successfully transitioned to the ISO/IEC 27001:2013 standard for its information security management system. HighQ was previously certified to the ISO 27001:2005 standard and has now renewed its certification as well as transitioning to the newer, more robust ISO 27001:2013 standard. This accreditation verifies that the International Organisation for Standardisation (ISO) information security standard is an integral component of all business processes within HighQ.
The ISO 27001 audit specifies the requirements for establishing, implementing, operating, monitoring, reviewing, maintaining and improving a documented Information Security Management System (ISMS), while taking into account the organisation's overall business risks. A neutral, independent agency conducted the audit and assessed the operations, as well as all available applications, IT systems, processes and services provided by HighQ.
"We are delighted to renew our ISO certification and transition to the newer standard. This re-certification demonstrates our ongoing commitment to the development and maintenance of a robust Information Security Management System that we know is so important to our clients." said Ajay Patel, Chief Executive Officer, HighQ.
While most companies rely on spreadsheets to track security and compliance, HighQ's internal teams worked together to create an Information Security Module built on the HighQ Collaborate platform to track and maintain the security, regulatory and compliance requirements, processes, procedures and records.