HighQ raises US$50 million investment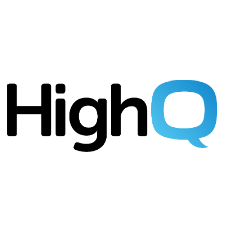 HighQ, a leader in Software as a Service collaboration and content management solutions for the enterprise, today announced the completion of a US$50 million growth equity investment from One Peak Partners, Morgan Stanley Merchant Banking and Goldman Sachs Private Capital. The investment will help HighQ expand its international footprint and support its product development initiatives, enabling it to further accelerate its growth trajectory.
HighQ's market-leading, highly secure enterprise cloud solutions transform the way its customers securely share information, manage projects, capture knowledge, engage with clients and optimise business processes. HighQ's team includes more than 180 employees globally with established operations in London, New York, Frankfurt, Amsterdam, Sydney and Ahmedabad.
"This is a significant milestone in HighQ's history and the beginning of an exciting new era for the company", commented Ajay Patel, CEO and Co-Founder of HighQ. "The application of innovative technology to transform the way businesses operate combined with exceptional service is at the heart of our mission and what we do best. We are delighted to partner up with three world class investors, whose depth of experience in providing strategic and operational guidance will add immeasurable value to our growth efforts."
"At One Peak, we seek to partner with exceptional management teams of successful, rapidly growing and innovative technology companies", said Humbert de Liedekerke and David Klein, Co-Founders and Managing Partners of One Peak. "We have been very impressed with the achievements and growth of HighQ to date. Our investment will help the company further consolidate its leadership position in the legal sector and accelerate its expansion into financial services and other verticals. We look forward to building on the considerable success already achieved by the management team, and to supporting HighQ in its next phase of growth."
"Morgan Stanley Expansion Capital is very excited to partner with HighQ", said Robert Bassman, Executive Director, Morgan Stanley Expansion Capital. "HighQ's products provide their enterprise customers an impressive blend of powerful collaboration with an intuitive user interface. We are excited to be a part of HighQ's future growth as it expands its sales and service capabilities in North America."
"Goldman Sachs Private Capital is delighted to be part of HighQ's first investment round. We have been impressed by the company's focus on meeting the most stringent requirements of the world's leading law firms and financial institutions, as well as its reputation for outstanding customer service", said Christian Resch, Executive Director, Goldman Sachs Private Capital.