Workshare: In a digital era, content is king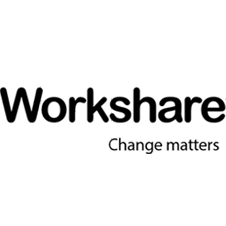 Understanding content changes
Workshare has been in the business of understanding how content changes since creating DeltaView in 1999. Changes to content affect the meaning of documents and agreements; they have implications for people and businesses. We never underestimate how much change matters.
Workshare has been changing too.
We're working on new ways to analyze content: how it's shared, where it's produced, how it's used and how context affects content. Because in a digital era, content is king.
Taking this knowledge, we're innovating to help you understand content changes effortlessly and protect it automatically.
Game changers
In the past year, Workshare has partnered with 6 New-York-based law firms to put a machine learning layer into their outbound email flow.
Monitoring the content shared in email attachments, we're able to identify patterns of behavior. This enables businesses to understand what "unusual" looks like. Then firms can see the sharing activity that's putting content – AKA company and client data – at risk.
Data loss events are most frequently caused by people inside a business (i.e. by employees). Whether it's unintentionally sharing content with inappropriate people or deliberately stealing data, the internal threat is the one to watch. This makes tracking content to detect risk a game changer for firms.
Head in the clouds
Data security is one focus. We're always working on understanding how content changes in documents through our core solution - Workshare Compare.
This means integrating content comparison in the places that it's created and edited most frequently.
In August, we announced our comparison tool was fully integrated into the NetDocuments content services cloud platform. This was a really exciting release because it marked our first cloud-to-cloud implementation of browser-based comparison capability.
The aim was to enhance the experience of NetDocuments users with the ability to perform DeltaView content comparisons directly in their familiar DMS environment, without needing any 3rdparty desktop software.
While the desktop app is still available and very popular, the cloud is bringing greater flexibility and mobility to the content review process. And we're expanding our partner integrations at a fast rate.
Snippets and spreadsheets
While we're ringing in the changes, let's talk about snippets and spreadsheets.
You've always been able to compare different types of files with Workshare (2 Word documents, 2 PDF files, 2 PowerPoint presentations), but it hasn't always been possible to compare a snippet of text or code; or just an image or table.
April 2018 brought the launch of Workshare Selective Compare.
You can now review one paragraph or clause, one image etc. without needing to run a redline on all the content in a long, complex document. You can simply 'drag and drop' what you want to review into the frame and we'll show you how the content has changed.
Coming very soon is the ability to compare Excel spreadsheets. There are lots of moving parts in Excel – formulae, related cells, direct and indirect changes. It's a tricky one to get right.
We're maintaining all the accuracy and precision you'd expect when you want to see what's changed between 2 spreadsheets.
We have Excel comparison in beta testing right now. Get in touch with us for an early demo – we'd love to show it to you.
Talking of change, what's new with you?
Let's talk about how you create content and how you need to understand change. Or we could talk about how you protect the content you share and make sure it doesn't go to the wrong people via email.