Briefing on: document management | Interview: Damien Behan at Brodies | Feature: SharePoint and DM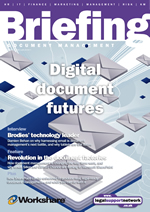 Briefing - the best and only legal business services magazine
Covering the key business issues facing law firms, Briefing talks to everyone in business services and support about what's important to them in their careers in law firms.
Briefing on document management
Featuring an exclusive interview with Brodies' IT director, this month's Briefing examines how document management systems are changing the way law firms work, and analyses the recent announcements by Lewis Silkin and Clifford Chance on their newly created SharePoint-based DM systems.
Inside this month's issue:
Exclusive interview: Rupert White talks to Damien Behan, Brodies' IT director, about how he's using document management to tackle email and set the firm up for a tablet-based future.
Feature: Joanna Goodman examines how document management is changing the way firms work, and analyses the entry of Microsoft SharePoint into the market.
Analysis: Jes Breslaw at Workshare on how law firms can layer third-party solutions on to SharePoint to produce DM solutions as good as anything on the market.
Download your copy now for FREE
Download the Briefing media pack