Briefing on: E-discovery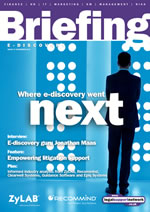 Covering the key business issues facing law firms, Briefing talks to everyone in business services and support about what's important to them in their careers in law firms.
Briefing on: E-discovery - and how it's changing legal
E-discovery isn't about bundles, document review and musty rooms any more - it's possibly the only real way to cut the cost of litigation bar not doing it at all, and its IT solutions can help law firms in ways you never imagined.
This issue of Briefing analyses what law firms can do with e-discovery to help their business thrive, and delves into the current issues in the field in detail.
This issue's in-depth, independent editorial:
Exclusive interview: Ernst & Young assistant director and e-discovery guru Jonathan Maas
Rupert White talks to Jonathan Maas about why the role of the law firm in disclosure is changing – and how e-discovery tools are helping firms inside their own walls.
Independent feature: Empowering litigation support
E-discovery is now about much more than just document review – the tools can be used in fee-earning and information management, and the people are having to learn a new basket of skills, Joanna Goodman reports.
Plus: expert industry analysis
Expert input from the e-discovery industry, including our issue sponsors ZyLAB and Recommind, on how firms can add value to clients by becoming e-discovery advisers, what new technology can deliver litigation departments, and how e-discovery technology can help make firms more efficient with technology in general.
Download your copy now for FREE
Download the Briefing media pack