Briefing on: Knowledge and process in 2014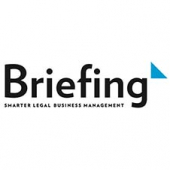 Going back to our roots?
We're not talking about KM in this issue of Briefing. We're analysing how process and project management and knowledge are combining to create new ways of working and better client value.
The rise of project management and process improvement in legal will bring knowledge leaders and their worlds to prominence in the future of the legal market. Why? Because that's where KM started. Here's where firms are taking it now.
What's in this month's issue?
Interview: Baker & McKenzie's M&A KM director Stuart Hopper kills the myth that even high-end, complex work like M&A can't be process managed. Read his blueprint for a future of strategic knowledge in legal – where process and project management rule.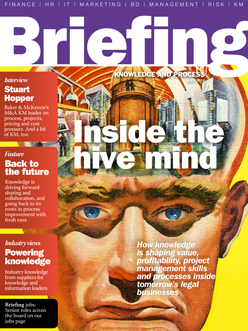 Feature: Knowledge is reshaping the delivering of legal services – Briefing talks to the KM leaders at DLA Piper, Herbert Smith Freehills, Linklaters, Mayer Brown JSM, Pinsent Masons, and (formerly) Addleshaw Goddard about driving forward sharing and collaboration, and going back to KM's roots in process improvement with fresh eyes.
Insight: Our supplier community, including a full-length case study on Charles Russell's use of Thomson Reuters Solcara, on powering knowledge.
Sign up to receive Briefing every month
>> Missed an issue of Briefing? Download them now
Visit the Briefing home page where you can download all our back issues.
Download the Briefing media pack to find out how you can be involved in Briefing's future.
Any problems?
Having problems downloading Briefing? Email David or email Stella and we'll email you a copy instead.