Briefing on: Knowledge management | Information superheroes: how KM is creating tomorrow's firm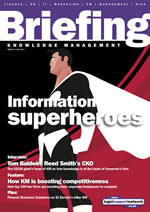 Covering the key business issues facing law firms, Briefing talks to everyone in business services and support about what's important to them in their careers in law firms.
Briefing on: Knowledge management - how KM is now a vital route to competitiveness
It's not what you know... it's the way that you know it. Knowledge management is no longer just about documents, precedents and IT - it's built itself a vital role in making your firm more competitive and more efficient.
This issue's in-depth, independent editorial:
Exclusive interview: Reed Smith's chief knowledge officer, Tom Baldwin
Tom Baldwin, CKO at US-UK giant Reed Smith, talks to Rupert White about why KM is now central to delivering a more efficient, more profitable law firm.
Independent feature: Information superheroes
Joanna Goodman looks under the bonnet at some of the UK's top firms to see how knowledge management is coping with a fundamental shift in the structure of legal business.
Plus:
Phoenix Business Solutions on SJ Berwin's killer KM: Making it easy to access a complex mix of internal and external information is the key to competitiveness.
Download your copy now for FREE
Download the Briefing media pack