Webinar: DocsCorp and iManage, minimizing the impact of a data breach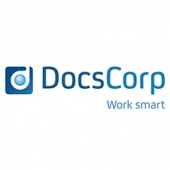 DocsCorp and iManage: minimizing the impact of a data breach
Register for this webinar to see a brand new integration with iManage and DocsCorp security solutions.
Stopping a data breach is not always possible, but you can minimize its impact. See how to better protect your business from threats like email data breaches and accidental data loss.
DocsCorp Co-Founder, Dean Sappey, and iManage VP Product Management, Ian Raine, are presenting this joint webinar.
This webinar will show you how to:
Secure and manage your data, so it doesn't become part of a breach
Implement data segregation and email security policies to minimize the impact of a breach
Decipher changing data protection regulations and how they impact you
Use the new integration with DocsCorp cleanDocs and iManage Security Policy Manager to ensure seamless lifecycle protection of your data.