Annual CRM Benchmark Survey is unveiled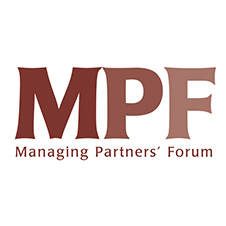 Managing Partner's Forum are delighted to present the fifth version of their "CRM Benchmark – the truth in professional services" a study that uniquely tracks the effort and processes used by professional firms to manage service delivery, and to identify those with the greatest correlation with success.
Managing Client Relationships – The Truth in Professional Services 2013
We all know that the ability of a professional firm to manage complex client relationships defines their competitive edge, secures sustainable revenue streams and contributes hugely to the health of any organisation.
Interestingly, highlights from the responses gathered in another recent Financial Times/MPF study on "Effective client-adviser relationships" suggested 'Investment in technology and systems' and 'Formal measurement of fee earner performance and client satisfaction' as priority areas for management to focus efforts to meet client expectations. Moreover, 54% of clients say the impression of whether an advisory firm is well-managed is an 'essential precondition of selection' and expect their chosen advisors to be client-centric and have a deep understanding of their businesses.
Ultimately the focus for professional firms is to meet the challenge of this new client agenda, thereby successfully retaining and developing relationships, when resources are tight.
2013 CRM Benchmark – click here to take part
Following feedback on the 2012 study (over 1,000 downloads) we continue to sharpen focus on the contribution of external consultants, software and systems. We also investigate how "CRM" processes link with key components of professional services marketing such as social media, digital marketing and fee earner time spent on BD.
The insights derived from this survey have helped previous participants grow their firm's revenue, drive improved effectiveness, and to ensure a competitive edge going forward. Extensive feedback on the performance and contribution of specific external consultants will help participants who are considering or selecting 3rd party advisors.
2012 quotes from participants and users of the study's insight:
The exact issue we are working on at the moment. Quality information.
…very apt as we are considering a CRM system purchase and need to evaluate the options.
I believe you have hit a nerve!...We are reviewing 2011 efforts and preparing initiatives for 2012. Thank you for providing such timely information.
The survey takes around 15 minutes to complete. All participants will receive a FREE executive report of the findings. In common with other MPF surveys, responses are only shared with other participants on an aggregate or non-attributable basis.
We urge you to participate. Here's the link again. Responses are required by 5pm Monday 25th February to be included in the results.