HighQ names David Roussain as chief marketing officer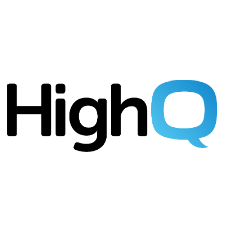 HighQ, a global leader in Software as a Service collaboration and content management solutions for data-security, compliance and regulated enterprises, announced today that David Roussain has been named as Chief Marketing Officer.
During 2016, HighQ experienced explosive growth in new sales, customer success and staff around the globe, and milestone achievements in analyst recognition and solution innovation. HighQ has established itself as the global leader in secure collaboration to manage digital transformation. The addition of the Chief Marketing Officer role is an important investment in HighQ's continued growth.
In this role, Mr. Roussain will work alongside Greg Taylor, President and Chief Operations Officer, to lead the global marketing strategy, teams and initiatives, both strategic and tactical, driving the next phase of HighQ's growth in the US and globally.
Roussain is a recognized industry executive in marketing and has a strong track record of organizing for success, building teams and achieving notable results. Roussain joins most recently from AppNexus, a global digital media exchange, where he managed a marketing team of seventeen to help scale the company over 50% in revenues. Prior, he was at AppSense where he executed a re-positioning of the company that led to five years of growth from $27m to $120m of revenue.
Earlier, Roussain logged a decade with industry leaders, as Group Vice President Marketing at Citrix for its $1.5B virtualization category and Vice President Marketing at FedEx where he was responsible for its global eCommerce and online businesses. He spent early years at Hewlett Packard in senior product and marketing roles after completing his Engineering degree with Honors at Queens University at Kingston, Ontario.
"HighQ achieved strong global growth in our core markets in 2016. I am delighted David has joined our winning team to extend our thought leadership through his world-class demand generation and product marketing expertise," commented Greg Taylor, President and COO at HighQ. "We are experiencing unprecedented interest globally from enterprises seeking to consolidate onto one integrated platform for secure engagement and transaction. We plan to serve this market as the innovative leader."
"HighQ is very well positioned providing secure, private collaboration workspaces that change the way people work," said David Roussain, HighQ CMO. "HighQ's advanced collaboration technology improves efficiencies and lowers costs for enterprises and project teams across corporate and geographic boundaries for significant cost savings".