VANTAGE NYC 2018 Showcases range and success of Elite products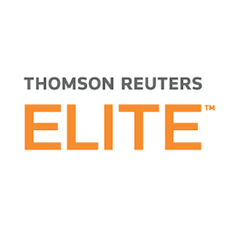 Thomson Reuters Elite, part of the Legal business of Thomson Reuters, hosted another successful VANTAGE Worldwide Conference last week at New York's legendary Marriott Marquis. More than 1,100 attendees—including 38 partner companies—participated in this year's flagship event, underscoring the extent to which adoption of Elite solutions continues to accelerate globally.
The VANTAGE 2018 New York conference is one of many events worldwide that offers clients a unique opportunity to gather new insights, share best practices, and network among peers. This year's program featured more than 300 educational sessions and tutorials on topics covering a wide range of solutions and services from both Elite and Thomson Reuters, including 3E®, ProLaw®, 3E MatterSphere® (formerly MatterSphere®), 3E Business Development (formerly Business Development Premier), and eBillingHub®.
A number of product innovations and updates were announced as well, including 3E in the Cloud, 3E Matter Pricing, 3E Paperless Proforma™, ProLaw 2018.1, ProLaw Paperless Proforma, Xcelerate Financial Reporting and Budgeting/Forecasting for ProLaw, and Data Insights for Enterprise®.
Attendees also helped to raise funds to support the work of the Alzheimer's Foundation, the world's largest voluntary health organization and non-profit funder of Alzheimer's research, effective care and support solutions. Over the course of the event, a total of $25,000 was generously donated by attendees, an amount which is being matched by Thomson Reuters dollar for dollar, helping to reach Elite's donation goal of $50,000.
This year's VANTAGE event took place as the momentum of Elite solutions in the marketplace continues to accelerate across North America. Over the past year, more than 25 American firms have gone live on 3E—which drives greater efficiency across firms and offers increased visibility into business performance—bringing the total of live firms to 153 firms globally.
As of May 2018, 93% of Global 100 firms own at least one Elite product, while more than 57% of Am Law 200 firms use an Elite financial management system. In addition, 84% of Am Law 100 firms use eBillingHub, which streamlines the entire billing process for a more efficient work-to-cash cycle and lower operating costs.
"We are proud that we can offer clients the very best solutions in the market as well as a forum where they can learn and explore the best practice for their firms," said Eric Ruud, managing director of Legal Enterprise Solutions at Thomson Reuters. "The success of VANTAGE continues our fantastic start to the year and has enabled us to form even closer partnerships with our customers as they strive to move their businesses forward."