Briefing on: Business development May 2012

Briefing on: Business development - May 2012
This month's issue peers beyond differentiation to see how the savvy mid-tier firms will win new business, how to add value in meaningful ways, and asks why BD and account management aren't more client-facing...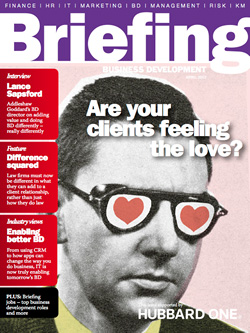 Interview: Rupert White talks to Lance Sapsford, business development director at Addleshaw Goddard, about doing legal BD differently – really differently. Adding value? Done. Sussing out which clients really want which pricing options, and why? In the bag.
Feature article: Value is the new word in legal business development. From helping clients become better business people to sorting them out with secondees – and much more besides – law firms must now be different in what they can add to a client relationship, rather than just how they do law; Grania Langdon-Down reports.
Plus: Briefing talks to issue sponsor Hubbard One's BD solutions guru about how technology can deliver more value, Capsticks' marketing manager explains how CRM helped the firm's strategy for growth, and we have an analysis of how mobile apps can help deliver better client service.
Sign up to receive Briefing every month
>> Missed an issue of Briefing? Download them now
Visit the Briefing home page where you can download all our back issues.
>> Opportunities to be involved in Briefing
Download the Briefing media pack to find out how you can be involved in Briefing's future.
Any problems?
Having problems downloading Briefing? Email David or email Sarah and we'll email you a copy instead.