Briefing on: Marketing and BD | Interview: Laurie Robertson, Baker & McKenzie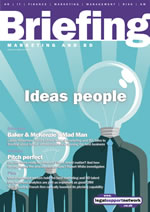 Briefing - the best and only legal business services magazine
Covering the key business issues facing law firms, Briefing talks to everyone in business services and support about what's important to them in their careers in law firms.
Briefing on marketing and BD
Can law firms really be different?
Does brand matter?
How do you please the procurement people?
And where will the BD and marketing talent you need to compete come from?
This issue of Briefing is all about marketing and BD for law firms.
We peer under the covers of legal business to discover if differentiation is really possible, why brand will become ever more important, how to deal with the increasing involvement of procurement in new business pitching, why iPad apps are actually great client engagement tools, and which sectors outside legal the best marketing and BD talent comes from.
This month's in-depth, independent editorial:
Exclusive interview: Laurie Robertson, global director of BD and marketing for Baker & McKenzie, talks about his approach to client relationships, why brand matters more when you do more outsourcing, and why marketing and BD should work together more closely.
Feature article: The big issues in BD and marketing: pricing, differentiation, brand, reputation and client development. Rupert White puts the client-focused support roles in law firms under a microscope to find out how the best firms are building more corporate difference and better client relationships and the teams that deliver them.
Plus:
Analysis: Which non-legal sectors hold the the best marketing and BD talent, by Ambition
Analysis: Why business analytics are just as important as good CRM in both winning new and expanded client business, by LexisNexis
Case study: How a leading French firm radically boosted its pitching capability with Hubbard One's Experience Manager
Download your copy now for FREE
Download the Briefing media pack