Briefing on: Marketing tomorrow's firm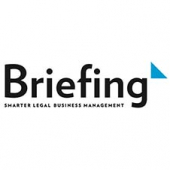 Game up, before it's too late
There's been no more pivotal a time for marketeers and BD in legal – the weight of competition, drive for differentiation and riddle of client satisfaction are bearing down on their shoulders, but steadily bearing fruit, too.
BD and marketing in legal is changing, so how are firms in the UK top 100 meeting the challenges of the new normal? And what have the parallel industries in professional services done to influence that progress?
Forward-thinking firms are getting ahead, and with robust marketing and BD holding the compass, firms are starting to find true north.
What's in this month's issue?
Interview: Rupert White talks to ex-agency man Ash Coleman-Smith at BLP, about legal marketing after the flood – and why outsiders' input is disrupting business as usual.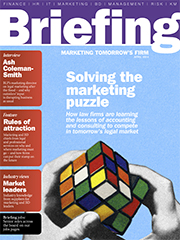 Feature: Declan Tan speaks to heads of marketing and BD from both legal and professional services, revealing the commonalities pulling them toward successful futures in competitive markets. Law firms are making the BD, marketing (and the S-word) their priority – with views from leaders at Ernst & Young, Olswang, Charles Russell, DWF, BLP's Lawyers on Demand, and Mayer Brown.
Insight: Briefing talks to industry insiders from our supplier community about developing firms' BD and marketing functions beyond the norm – including issue sponsor Thomson Reuters Elite on the importance of effective CRM systems, how they are failing law firms, and how to move beyond to marketing nirvana.
Sign up to receive Briefing every month
>> Missed an issue of Briefing? Download them now
Visit the Briefing home page where you can download all our back issues.
Download the Briefing media pack to find out how you can be involved in Briefing's future.
Any problems?
Having problems downloading Briefing? Email David or email Stella and we'll email you a copy instead.