Briefing on: Pricing and profitability in 2013

Are law firms pricing themselves out of business?
Is the legal world finally ready for a shift in pricing culture? And what will that mean for strategy and client relationships? It's time to adopt new ways - and fast - according to the experts in this month's Briefing.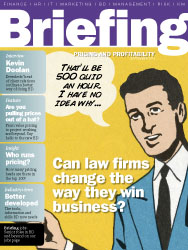 Profitability has become a matter of survival in today's law firms and BD has revealed itself to be crucial in strategising for the future.
What's in this issue?
Interview: Rupert White talks to Kevin Doolan of Eversheds, about why change in pricing, profitability and project management in law firms must happen.
Feature: Jade Ollis and Rupert White on how value pricing and project management are shaping the new legal BD - including views from leaders at Møller PSF Group, Baker & McKenzie, SNR Denton, Aecom, and CMS Cameron McKenna.
Feature Extra: Phoebe Brewster finds out how many heads of pricing are in the top 100 law firms and whether firms are ready to take it on as a specialism.
Plus: Briefing speaks to issue sponsor Thomson Reuters Elite's Dan O'Day, about how project-style working might just be the future for law firms.
Sign up to receive Briefing every month
>> Missed an issue of Briefing? Download them now
Visit the Briefing home page where you can download all our back issues.
Download the Briefing media pack to find out how you can be involved in Briefing's future.
Any problems?
Having problems downloading Briefing? Email David or email Stella and we'll email you a copy instead.