Growing smarter: Converge TS on driving company growth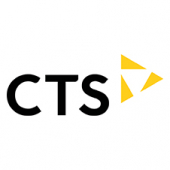 After four years with Thomson Reuters Elite, Peter Gill (its ex-head of sales, EMEA), has joined legal-focused cloud provider Converge Technology Specialists (Converge TS). Its first chief commercial officer, he says the opportunity to add value to a business just beginning a new chapter in its growth story was impossible to turn down.
At the top of the year, Converge TS secured an undisclosed sum from mid-market investor Tenzing Private Equity, which targets high-growth companies valued at up to £75m. This came as Converge TS achieved year-on-year growth of over 50% for three successive years, with an increasing number of law firms clearly placing their faith in greater cloud-based working.
"The business plan for our next five years was such an attractive proposition for me to provide input and place my own stamp in the appropriate places," says Gill. "As well as account management of our existing clients, I'll lead the new business team as we expand, driving new business acquisitions. I led the Elite EMEA team in much the same way, but size and scale is replaced by agility and speed of reaction."
Investment in agility
In short, Gill will be deployed in a rather more flexible capacity – which is fitting, as that's precisely the Converge TS proposition to law firms when it comes to cloud technology.
"Legal is focusing hard on a number of strategic areas," he continues. "They are reducing business risk and cost, but cloud also has a key role in enabling firms to be more agile for their clients.
"Client service delivery is driving a lot of the cloud-first strategies we see. Employees need empowering with the right toolkit to do the job, and today that means mobility – the right applications available in the right environment to deliver the right level of service."
At the same time, of course, firms feel the pressure to maintain and monitor verifiable compliance and risk management processes – and to tackle the many levers of firm profitability, one of which is cost.
"Firms are reviewing how to invest in technology. Perhaps having underinvested through the last recession, they now have to replace systems, but want to invest in a smarter way. They don't necessarily need to invest hundreds of thousands, or millions, bringing in infrastructure. They can save by outsourcing to a specialist IT provider – that's also specialist at managing risk – and maintain their own expert focus on delivering client services."
The idea is that the Converge TS strategy will enable exactly that – and while reducing the short-term cost of business, even pave the way for faster growth. "We'll be working with other trusted vendors in the market to help firms make process changes such as introducing automation on a wider scale in future."
This article appears in Briefing magazine: to read the full article, download your copy of Briefing July/August: In-house special here.