Into the cloud: Internet computing is much touted as the saviour of SME law firms - but is it?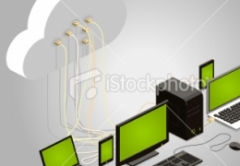 Those magnificent men in their marketing machines have been going up diddly up up recently in their effusive praise of the 'cloud'. I have a big hot air balloon in my mind's eye when I hear that, so imagine my horror to discover that in fact:
"The cloud is like an AK-47 - a cheap, effective weapon that is widely available to any small group which allows them to compete against the world's most sophisticated organisation on an equal or better footing." (in a post by Chris Weitz, Deloitte's director of technology, strategy and architecture)
Down come those magnificent marketing men, with my balloon now riddled with bullet holes. Fortunately, clarity appears to be at hand at Salesforce, the big customer relationship company - surely their '10 benefits of cloud computing' is going to be my puncture repair kit to get me airborne once again... or maybe not.
Some of the 10 benefits seem a little over-stated in this document, to me. Duplicated concepts abound - "increased collaboration", "document control", "work from anywhere" and so on. As for "competitiveness", this is hardly the preserve of cloud computing and smacks of having to strain a bit too hard to get the perceived benefits into double figures.
The claimed environmental benefits are nice: "30% less energy consumption and carbon emissions than using on-site servers", so Salesforce say. But where margins are getting tighter and tighter, this is a bauble rather than a driver for change.
I am not sure that I understand the idea of "security" as a cloud benefit, either. Supported by the statistic that "800,000 laptops are lost each year in airports alone", I fail to see how the cloud makes my business more secure in the circumstances that some numpty lawyer leaves their laptop on a plane, train or automobile.
Is there anything left for cloud? The more numerate will have realised that there are, of course, four alleged benefits of the cloud left.
The upsides of the cloud
Pleasingly, for someone like myself who is seeking a delivery platform for a scalable back office service to multiple office sites/remote working in police stations and courts, there are seemingly some real benefits to donning the fur-lined leather jacket/hat combo (accessorised with a jaunty pair of goggles and breaking out the helium).
Our strategic plans at Tuckers would be in tatters if we actually had to pay for anything, because we don't have the resources to commit to significant capital expenditure. Being able to budget in a straight line for the hardware infrastructure required is a game changer.
This is also true of maintaining the latest versions of key software applications. Spiky investments in upgrading Microsoft Office, Outlook and security software are smoothed out - and, when trying to offer software as a service, you can do so on the basis that everything is the most up-to-date available.
Flexibility/scalability has a twin benefit. It works on a daily level, in terms of opening up the bandwidth if it happens to be a day where everyone is downloading iTunes content (in material breach of the internet policy), and it gives a flexible pricing model around licensing and immediate availability of increased capacity if the merger with that 50 user firm comes off.
Last, but not least, our disaster recovery policy is a lot easier to write when you can say that you have outsourced the problem to your hosted provider.
But it seems to me that they have missed a trick: with tensions involving nuclear powers in the Middle East rising, a tangible benefit of having a contractual relationship with someone who owns a 'tier 4 bunker' (whatever that is) is something that I am factoring into my thinking. Certainly both my family and my servers are likely to be safer in there than they are in the basement of our Manchester office.
In conclusion, we at Tuckers will be going up diddly up up into the cloud...
Have you looked into putting your firm's IT in the cloud? Or would you rather keep complete control? Tell us in the comments below