Quill case study: Start-up, Browns Solicitors, chooses Quill's outsourced cashiering service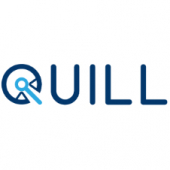 When Jane Lodeto and Jane Elgar formed their new legal practice, Browns Solicitors, a year ago, they immediately set about requesting quotes from suppliers of legal accounts software.
Initially narrowing the search by costs alone, Quill Pinpoint became the forerunner because its charges were lower than the other two shortlisted companies. Added to this, Quill was the only software provider to carefully explain the quoted figures.
"Support during the early stages was just as important as the actual costs in order for us to grasp exactly what we'd get for our money", explains Jane Lodeto, Solicitor and Director at Browns Solicitors. "Quill took the time to talk things through with us. This approach was refreshing and set Quill apart from the rest. Pricing was a key consideration because it's what allows us to offer value-for-money services to our own clients."
As a small practice, Jane and her business partner were also interested in outsourced support, specifically legal cashiering.
"Another way in which Quill's different is its outsourced accounting service", continues Jane. "With Quill, the service and software come together. This dual provision is unique. The cost-saving advantages are substantial when compared to an in-house cashier's wages and legal accounts software supplied by someone else. So, we chose outsourcing."
Aside from the financial element, another major benefit of Quill's cashiering service, Pinpoint, is accuracy and compliance.
"Although we're trained in the SRA Accounts Rules, no one in our business is proficient in the ins and outs of cashiering", adds Jane. "Now, we don't need to be. We merely log our e-chits onto Quill's legal accounts system, Interactive. Then, all of our financial transactions are checked and maintained within the tight boundaries of the Rules by our Pinpoint cashier. Our end-of-month accounts are a non-issue. The same applies to the end of our financial year, which for us falls in January. It's at these times, when most law firms are fretting over their books, that we're glad not to have to worry. We're constantly reminded of why outsourcing is best."
Pinpoint clients have a named cashier, supervisor and deputy from the cashiering team.
"Knowing there's always someone there looking after our accounts really puts our minds at rest", concludes Jane. "We love everything about Pinpoint and Interactive. We already refer start-ups to Quill and intend to carry on doing so."