Advanced World 2019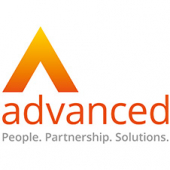 Now in its fifth year, Advanced World is the largest annual gathering of the Advanced customer community.
A truly customer-led event, our keynote Carolyn Fairbairn, Deputy-General of the CBI, will exclusively share her thoughts at this crucial juncture for the economy and the country with particular focus on the future business, political and economic landscape for British Business post-Brexit.
Why attend?
Learn more about your current Advanced solution and how you can ensure your organisation is getting the most from your investment.
Hear from fellow business leaders and market sector specialists about trends specific to your business.
Meet members of our Support, Services, Training and Product Teams who will all be there to give advice and guidance to you.
Book now to join more than 1,500 Advanced customers and connect with senior influencers from a wide range of sectors across the British business community.
What to expect
Key session
Impact of Artificial Intelligence on the Legal Sector
For the legal sector, the impact of artificial intelligence is predicted to be transformational, but is viewed with apprehension by many within the profession. This panel session will involve leading players in the legal industry discussing their experiences, and predictions of how artificial intelligence could and is already being harnessed as a positive force in legal businesses.
Doug Hargrove (Panel Chair) - Managing Director of Legal and Education at Advanced (LinkedIn)
Alex Smith – Practice Manager at Buss Murton (LinkedIn)
Kim Carmyllie – Practice Manager at Price Slater Gawne (LinkedIn)
Barrie Hadfield – CTO at Workshare (LinkedIn)
Mike Washburn – Managing Director at Axiom TDM Limited (LinkedIn)