Briefing 5P conference 2017 – London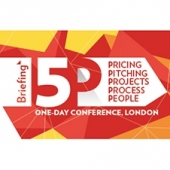 The Briefing 5P conference centres on progressing beyond traditional silos in legal services and demonstrates that people in legal business have to work together in a more inter-dependent, project-based way to deliver legal work, increase profits and retain clients. Each year our high-level research enables us to deliver conference on pricing, pitching, project management, process mapping and most importantly on how to achieve profitability.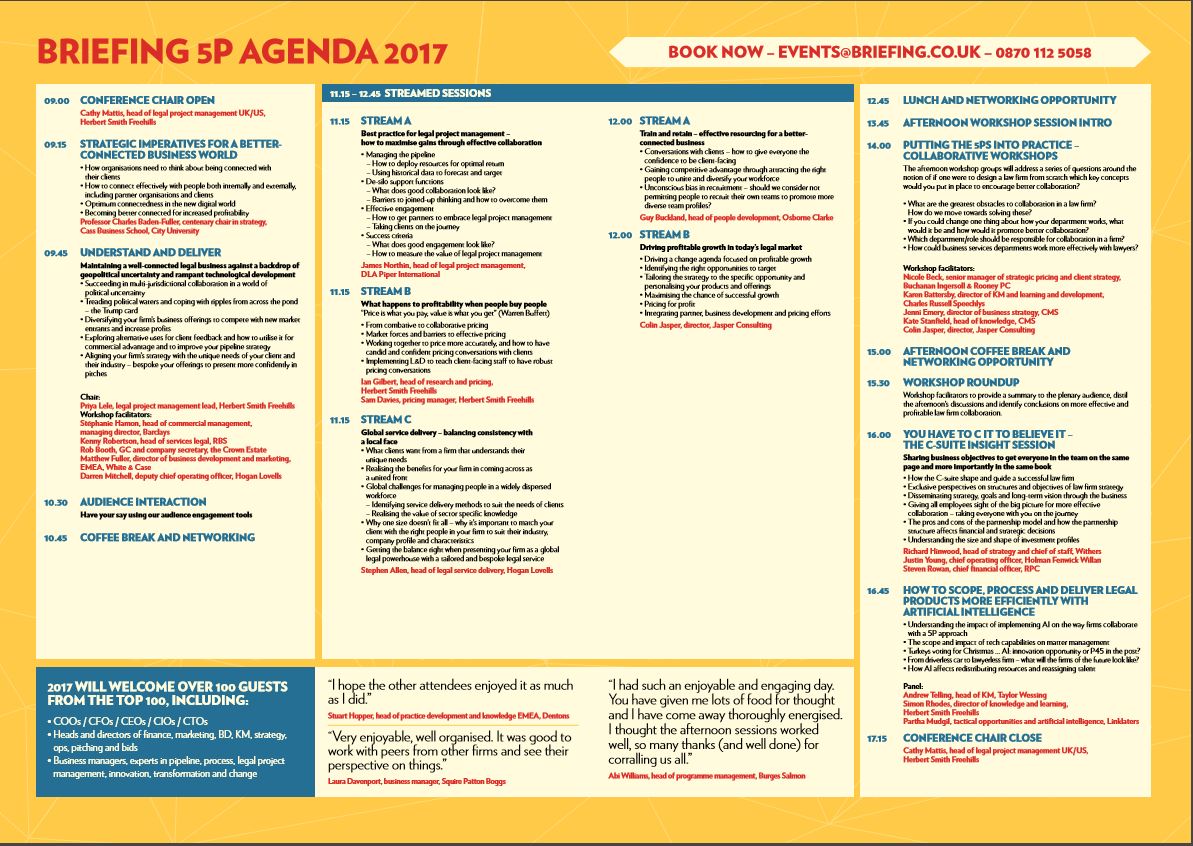 Confirmed speakers
KEYNOTE: Professor Charles Baden-Fuller, centenary chair in strategy, Cass Business School, City University
Cathy Mattis, head of LPM UK/US, Herbert Smith Freehills
Ian Gilbert, head of research and pricing, Herbert Smith Freehills
Sam Davies, pricing manager, Herbert Smith Freehills
Priya Lele, legal project management lead, Herbert Smith Freehills
Simon Rhodes, director of knowledge and learning, Herbert Smith Freehills
Justin Young, chief operating officer, Holman Fenwick Willan
Stéphanie Hamon, head of commercial management, managing director, Barclays
Darren Mitchell, deputy chief operating officer, Hogan Lovells
Stephen Allen, head of legal service delivery, Hogan Lovells
Steven Rowan, chief financial officer, RPC
Rob Booth, general counsel, The Crown Estate
Richard Hinwood, head of strategy and chief of staff, Withers
Kenny Robertson, head of services legal, RBS
James Northin, head of legal project management, DLA Piper International
Guy Buckland, head of people development, Osborne Clarke
Colin Jasper, director, Jasper Consulting
Nicole Beck, senior manager of strategic pricing and client strategy, Buchanan Ingersoll & Rooney PC
Karen Battersby, director of KM and learning and development, CRS
Andrew Telling, head of KM, Taylor Wessing
Partha Mudgil, tactical opportunities and artificial intelligence, Linklaters
Matthew Fuller, director of BD and marketing, White and Case
Jenni Emery, director of business strategy, CMS Cameron McKenna
Kate Stanfield, head of knowledge, CMS Cameron McKenna
Highlights from the agenda
STRATEGIC IMPERATIVES FOR A BETTERCONNECTED BUSINESS WORLD
Learn how organisations can connect effectively with people both, internally and externally, and ultimately use this connectedness to increase profitability.
UNDERSTAND AND DELIVER
Maintaining a well-connected legal business against a backdrop of geopolitical uncertainty and rampant technological development.
PUTTING THE 5PS INTO PRACTICE – COLLABORATIVE WORKSHOPS
The afternoon workshop groups will address a series of questions around the notion of if one were to design a law firm from scratch which key concepts would you put in place to encourage better collaboration?
YOU HAVE TO C IT TO BELIEVE IT – THE C-SUITE INSIGHT SESSION
Sharing business objectives to get everyone in the team on the same page and more importantly in the same book
Briefing 5P 2016 in numbers
105 attendees
33 law firms were represented (top 100).
5P 2016 testimonials
- "I had such an enjoyable and engaging day. You have given me lots of food for thought and I have come away thoroughly energised. I thought the afternoon sessions worked well, so many thanks (and well done) for corralling us all." – Abi Williams, head of programme management, Burges Salmon LLP
- "Thanks to you and all of the team for putting on a great event." – Ed Hunt, business process improvement team manager operational change, DWF LLP
- "Hope the other attendees enjoyed it as much as I did." – Stuart Hopper, head of practice development and knowledge - EMEA, Dentons
What to expect
Cathy Mattis, head of LPM UK/US, Herbert Smith Freehills
Ian Gilbert, head of research and pricing, Herbert Smith Freehills
Sam Davies, pricing manager, Herbert Smith Freehills
Priya Lele, legal project management lead, Herbert Smith Freehills
Simon Rhodes, director of knowledge and learning, Herbert Smith Freehills
Justin Young, chief operating officer, Holman Fenwick Willan
Stéphanie Hamon, head of commercial management, managing director, Barclays
Darren Mitchell, deputy chief operating officer, Hogan Lovells
Stephen Allen, head of legal service delivery, Hogan Lovells
Steven Rowan, chief financial officer, RPC
Rob Booth, general counsel, The Crown Estate
Richard Hinwood, head of strategy and chief of staff, Withers
Kenny Robertson, head of services legal, RBS
James Northin, head of legal project management, DLA Piper International
Guy Buckland, head of people development, Osborne Clarke
Colin Jasper, director, Jasper Consulting
Nicole Beck, senior manager of strategic pricing and client strategy, Buchanan Ingersoll & Rooney PC
Karen Battersby, director of KM and learning and development, CRS
Andrew Telling, head of KM, Taylor Wessing
Partha Mudgil, tactical opportunities and artificial intelligence, Linklaters
Matthew Fuller, director of BD and marketing, White and Case
Jenni Emery, director of business strategy, CMS Cameron McKenna
Kate Stanfield, head of knowledge, CMS Cameron McKenna