Briefing 5P conference 2017 – London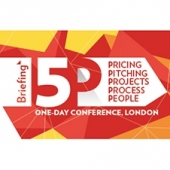 The Briefing 5P conference centres on progressing beyond traditional silos in legal services and demonstrates that people in legal business have to work together in a more inter-dependent, project-based way to deliver legal work, increase profits and retain clients. Each year our high-level research enables us to deliver conference on pricing, pitching, project management, process mapping and most importantly on how to achieve profitability.
The agenda will be launched in the coming weeks….so watch this space. We are already taking reservations so email us to book in now!
Briefing 5P 2016 in numbers
105 attendees
33 law firms were represented (top 100).
Check out the agenda from our latest conference here.

Who should attend?
Heads of (operations, IT, finance, transformation)
COOs / CFOs / CEOs / CIOs
directors (operations, IT, finance, transformation)
business development experts
marketing specialists
finance experts
pricing experts
project managers
HR experts.
Past guest speakers at Briefing 5P include:
Bjarne Tellmann, senior vice president and general counsel, Pearson
Zelinda Bennett, international marketing director, DLA Piper
Stuart Hopper, head of legal know-how and legal training, Dentons
Priya Lele, legal project management lead, Herbert Smith Freehills
Howard Landes, chief counsel, corporate, BG Group
David Bateson, senior vice president legal, IP and sustainability, Canon Europe
Meera Karan, principal solicitor, governance and deputy company secretary, EDF
Andrew Grill, global managing partner, IBM Social Consulting
Ian Kehoe, senior project manager, Allen & Overy.
5P 2016 testimonials
"I had such an enjoyable and engaging day. You have given me lots of food for thought and I have come away thoroughly energised. I thought the afternoon sessions worked well, so many thanks (and well done) for corralling us all." – Abi Williams, head of programme management, Burges Salmon LLP
"Thanks to you and all of the team for putting on a great event." – Ed Hunt, business process improvement team manager operational change, DWF LLP
"Good event – hope the other attendees enjoyed it as much as I did." – Stuart Hopper, head of practice development and knowledge - EMEA, Dentons