Legal Practice Management 2016 conference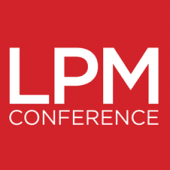 The Legal Practice Management 2016 conference is the only event of its kind to specifically target practice managers and directors, heads of operations and heads of finance from small to medium UK law firms.
Aimed exclusively at professional managers from on average 2-25 partner firms, this one-day event will provide you with a unique opportunity to discuss common challenges, share experiences and hear the latest thinking from your peers.
Have a look at the photos from 2015 conference for a taste of what to expect.
Don't miss this rare opportunity to meet and learn from your peers!
What to expect
09.00 Registration and coffee
09.25 Welcome and opening address

Rupert Collins-White, editor in chief for Legal Practice Management magazine, Legal Support Network
09.35 Adapting to new markets and changing ways in delivering client service
Changing and harmonising working practices toward client satisfaction, driving profitability, managing risk and developing your staff
Overcoming barriers to growth and managing the pressures that come with change
Managing values and culture ensuring they fit with your firms chosen strategy and the personalities and ambitions of staff
Adjunct Associate Professor Rupert Merson, London Business School
10.15 Accepting that change is on the horizon - embedding risk and compliance management across the firm
Making sure your firm is resilient enough to thrive irrespective of the increasing regulatory burden
Getting to grips with the changes from the SRA in the new handbook
Continuing to adapt and prosper in a post-Legal Services Act world
Impact and preparation for the announcement of government consultation outcomes
Chris Handford, director of regulatory policy, Solicitors Regulation Authority
Paul Lowe, former operations director, Darbys Solicitors
Natasha Rawley, the file queen, Archive Document Data Storage
Moderator: Shaun Jardine, CEO, Brethertons
11.15 Networking break
CHOOSE ONE OF THE FOLLOWING STREAMS
11.45 Stream 1 – Developing pricing solutions to enable more accurate pricing and providing price certainty
Why is pricing important?
Thinking through the solutions to enable better pricing strategies for a firm
What to do first?
Does the pricing journey have an end?
Richard Clark, managing director, berg
Stream 2 – Cybersecurity - managing the ever-increasing challenges of keeping your data safe
Implementing strategy that deals with a security breach should one occur
Hints and tips for keeping your data safe
Importance of ensuring internal processes are robust enough
What firms can do to manage risk or a cyber-attack to their firm
Janine Parker, partner and head of UK professionals, Paragon
Robert Pritchard, founder, The Cyber Security Expert
Hans Allnutt, partner, DAC Beachcroft
12.45 Time to eat and network
CHOOSE ONE OF THE FOLLOWING STREAMS
13.45 Stream 1 - Reshaping business models within SME law firms
What are clients looking for and how do they value legal services
How do law firms price work and remunerate for work
Changing the remuneration models of lawyers and re-evaluating how the firm's fixed costs contribute to the lawyer's ability to generate fees for the firm
William Robins, operations director, Keystone Law
Stream 2 – Social media for relationship builders
Sweep away the many myths surrounding social media that stop many people from using it
How to use social media to start and then build 121 business relationships with potential clients
How to manage risk and avoid breaking confidentiality in less than 50 words
Explore ways to build your personal brand and credibility using social media
Mike Ames, founder and lead consultant, Flair Consulting
14.30 Using technology to drive efficiency
Ensuring your firm's mobile platforms are robust enough to enable agile working
Embedding sufficient, accurate and timely management information platforms to support the business and enable the business to compete in the future
Creating platforms to enable on-boarding for clients via your website
Effecting process management to enable change management to take place and create uniformity across the firm
Frank Saxby, practice director, QualitySolicitors Barwells
Sally Holdway, head of innovation, QualitySolicitors
Tony Parish, chairman, G3 Comms
Moderator: Rupert Collins-White, editor in chief for Legal Practice Management magazine, Legal Support Network
15.30 Networking break
16.00 The war for talent – avoiding brain drain within your firm
Finding the right calibre of candidates in an ever increasing competitive market
Direct recruitment approaches vs traditional agency route
Creating cohesive teams with instant gratification culture
Creating an honest approach to career planning and progression within a firm
Employment strategies that enable the firm to attract people from diverse backgrounds
Developing a diversity and inclusion policy that drives employee engagement
Driving strategy forward with the next generation in mind
Shaun Jardine, CEO, Brethertons
Sally Jones, COO, Brethertons
17.00 Summary and closing address
17.10 Drinks reception
Who will benefit
Practice managers, practice directors, COOs, heads of operations, CEOs, business support directors, heads of administration, office managers, heads of finance and accounts managers
Additional Information/Speakers
Mike Ames, founder and lead consultant, Flair Business Growth Consulting
Mike built the Software Knowledge Group into a £40m turnover business in a decade then sold it to a NYSE listed company. Following a year getting under his wife's feet he became a director and joint founder of Crimson, which is now a multi-million pound Microsoft Gold Partner, IT services provider and IT recruitment company. Although still a major shareholder, Mike left Crimson in 2010 to concentrate on the Flair Business Growth Consultancy. He uses the same proven tools and techniques to de-skill the sales process so making it easier for people with less sales experience or ability to still deliver exponential growth.
Richard Clark, managing director, berg
Richard joined berg in January 2016 after over 11 years with rival firm Irwin Mitchell and prior experience within the financial services industry, working for a couple of the large banks in operational and programme leadership roles. As managing director at berg, Richard's role includes business strategy and operational design alongside change management and continuous performance improvement. Ultimately tasked with developing and growing a business which has been challenging convention for more than 35 years.

Chris Handford, director of regulatory policy, Solicitors Regulation Authority
Chris has been director of regulatory policy at the Solicitors Regulation Authority since May 2015. He has responsibility for leading a reform programme that will remove unnecessary regulation and allow flexibility for legal services providers to deliver services in the way that consumers want, while continuing to protect consumers. Chris has over 15 years experience of developing policy in the legal service sector. He was previously head of research and development at the Legal Services Board, the oversight regulator for legal service in England and Wales.
Sally Holdway, head of innovation, QualitySolicitors
Sally is a qualified solicitor, having started her career working for a high street firm. More recently she has been director of projects for a large volume conveyancer, and has also spent time providing consulting services to law firms nationally on process and IT. The latest QS project she has led is the build and rollout of the new QS 'Customer Platform'

Shaun Jardine, CEO, Brethertons
Shaun is an avid networker and describes himself as serial opportunist, frog kisser and chief penguin scout. An avid reader with a pathological hatred of reinventing wheels. Shaun aims to deliver a strategy designed by fictional characters from a pithy Canadian legal novel and a book about talking penguins with briefcases. Shaun describes himself as a retired litigation lawyer who now leads a law firm as a second career. When not managing, the only chargeable work Shaun carries out is as a commercial mediator with a penchant for neighbour and boundary disputes.
Paul Lowe, former operations director, Darbys Solicitors
An accomplished, professional with excellent, leadership, management, compliance and team working skills in the legal world with an exemplary work ethic. As a commercial Litigator, my strength was achieving practical, commercial settlements for clients. I have carried those strengths into senior management roles striving to drive business forward with pragmatic, innovative solutions with the foresight to change, and adapt with business requirements. Previously operations director and head of risk and compliance at Darbys Solicitors a top 150 law firm. I was the compliance officer for Legal Practice (COLP) .I and over oversaw all of the day to day operations within Darbys having particular responsibility for IT operations ensuring the firm runs as smoothly as it can. I have had past experience of project managing the move of both the Oxford and Hale offices along with the project management of the introduction of a new practice management system in 2014. I have been the Chairman of The Oxfordshire Business Awards for the last eight years.

Janine Parker, partner and head of UK professionals, Paragon
Having underwritten the contribution at the Solicitors Indemnity Fund, Janine joined the insurance broking market in 2000 and now specialises in placing a range of insurance products for law firms of all sizes in England and Wales. Risk awareness has always been high on the agenda and she actively promotes financial, business and risk management within her clients. Janine is one of the architects of LawSelect a holistic indemnity club for well managed law firms who receive complimentary risk support and best practice sharing amongst its members. LawSelect operates in a micro-climate protected from the ups and downs of the Professional Indemnity market giving clients sustainability and confidence in their indemnity provider.
Tony Parish, chairman, G3 Comms
An award-winning entrepreneur, Tony has created successful companies for almost 30 years such as G3 Comms, the Aura Alliance and the UCA. As co-founder of G3 Comms, his vison was to deliver an unmatched customer experience based on integrity, honesty and customer excellence. With an impressive career in IT and Telecommunications, vast customer, industry and future market knowledge, Tony has always changed the industry in terms of views and developed new ideas that have turned in to great business ventures. With his leadership, G3 Comms has help organisations to transform their business communication and gain operational and strategic advantage.
Natasha Rawley, The File Queen, Archive Document Data Storage
Natasha Rawley is known to her clients as The file queen. Working for Archive Document Data Storage for over 10 years based in their London and Swindon record centers. Natasha has over 15 years of experience in record and information management. Her expertise are in the legal sector working with firms to align their record and information management and storage processes. Helping firms think differently about how they manage their data and information. Leading to restructuring of internal records management process as well as introducing electronic retrieval and storage solutions to firms. Advising on record retention policies and how to identify and protect vital information assets within the firm. Natasha has been an active volunteer for PRISM International (governing body for information storage and management companies) as well as ARMA international a Nonprofit professional association and authority on managing records and information.
William Robins, operations director, Keystone Law
William has been on the board of Keystone since 2009. William is responsible for the day to day running of the firm, in particular, the central office support team – a team of support staff who work seamlessly with the firm's lawyers to help them support their clients. William is at the forefront of agile working in the legal sector and an advocate of streamlining business processes to promote client service and value. In 2015 William, together with other members of the firm's board, took the Keystone approach to the Isle of Man, setting up the first UK law firm on the Island for 30 years. William studied law and qualified as a solicitor in 2003 with City firm, Berwin Leighton Paisner where he practised as a corporate lawyer before joining Keystone to focus solely on management.
Frank Saxby, practice director, QualitySolicitors Barwells
Frank began his career with the Ministry of Defence. After gaining an Honours Degree from the University of London he joined the UK representative of a specialist international heavy lift shipping business in a project and finance based role working mainly to the petro-chemical construction project industry. He then joined a software house in a board level management role involved in the design and implementation of insurance, merchant banking and housing asset management software. In 2002 he joined his first law firm and has spent the last 14 years in practice management as CEO and practice director roles. As practice director I am involves me in the strategic and operational development of the firm across the branch network in the key areas of finance, human resources, operational and BD.
This event is supported by: