Webinar - Outsource your cashiering... it's a no brainer!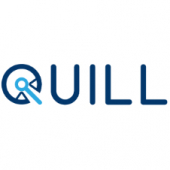 Book your webinar today
The outsourcing business model really is a no brainer. This is reflected in the profit margins of Quill's outsourced legal cashiering service clients who've seen 25% growth.
Many functions can be outsourced - typing and payroll, for instance - but legal cashiering's the focus here, as it falls under scrupulous regulation and exacting rules. Making mistakes carries a heavy price tag.
The main benefits of outsourced legal cashiering support, then, are...
Business growth: Cut your overheads by simply paying-as-you-go and concentrate on fee earning without accounts-related distractions. Your profit costs will thank you for it!
Regulatory compliance: Leave your problematic cashiering tasks to qualified experts who'll get everything right first time, on time. Not only will you and your COFA be happier, so too will the SRA!
Continuity promise: Access your cloud data any time, any place, any device and know your cashier (or deputy) is readily available during working hours. Rely on the expected when facing the unexpected!
Plus much more besides including business intelligence insights, personal service support and streamlined annual accounting
Still need convincing? Read more and register for one of our free, no obligation, 15-minute webinars. We'll talk you through the Pinpoint legal cashiering process at Quill and show the main accounting screens in our Interactive legal accounts software.
Just click on one of the hyperlinked dates here to book your place:-
Tuesday 13th February, 11am - 11.15am
Thursday 15th February, 2pm - 2.15pm
Wednesday 21st February, 11am - 11.15am
Friday 23rd February, 2pm - 2.15pm