Wilson Allen webinar: Practical uses of AI to mine data for finance and marketing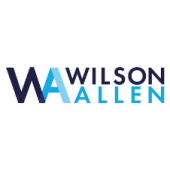 With the marketplace for legal services becoming increasingly competitive, the need for a data-backed business strategy is urgent. In this three-part webinar series, Wilson Allen's business and analytics experts will demonstrate how finance, IT, and marketing professionals can apply advanced analytics and artificial intelligence to make better business decisions across the complete client engagement life cycle.
Law firms are moving away from rigid data warehouses in favor of nimbler data models that allow for easier access and a broader view of data. In this session, Greg Murphy and Bo Yancey will demonstrate how finance teams and legal marketers can perform self-service analytics to strengthen client relationships and drive revenue.
Murphy will show how firms can use Microsoft Power Query to discover, connect, combine, and refine data sources and then visualize the resulting data mashups in Excel and Power BI to meet self-service analysis needs. This is a no code solution that savvy users can do on their own using readily available tools and data.
He'll showcase sentiment analysis capabilities Wilson Allen has developed into pre-built templates using Net Promoter Score data to correlate quantitative feedback scores with qualitative feedback, the strengths of a business relationship, and lawyer behavior. The resulting data mashups combine sentiment with traditional performance metrics to help firms identify areas for improvement.
Presenters:
Greg Murphy, VP, Products
Bo Yancey, Director, Strategy
Who should attend?
Finance and marketing professionals