Quill interactive - practice management software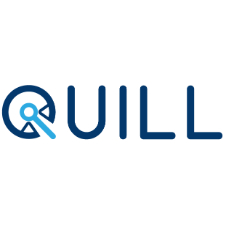 Quill Interactive is our award winning, easy-to-use, intelligent legal accounts and practice management software for law firms and in-house cashiers, delivered via the cloud.
The extensive range of software features enable better management of matters in progress and compliant financial transactions, with the hosted format giving the added reassurance of emergency planning and disaster recovery resilience.
Complete with comprehensive reporting, accurate time recording, centralised database, advanced risk management, flexible billing, full ledger management and remote working capabilities, you can significantly improve the way you operate, monitor performance and administer your finances.
The features and benefits of Quill interactive are:
Zero capital expenditure – there's no heavy upfront investment to save money on set-up costs for in-house server resources and IT equipment
Software as a service (cloud computing) – secure hosted delivery gives your mobile staff, home workers and multiple branch offices uninterrupted remote access to your matter and accounts files
Business continuity and disaster recovery – connect to your core applications from any location to improve your practice performance and reduce the risk of disruption to your services
Free accountant licence – your accountants can freely access your meticulously maintained accounts and reports to automate regular statutory accounting and ad hoc audits or inspection activities
Billing feature – log all fee earner time and disbursements with automatic calculation of profit costs linked to complex pay rates, percentage uplifts and VAT for accurate bill production and full recovery of fees due
Business intelligence – at-a-glance key performance indicators and metrics provide you with a clear overview of your firm's current financial position
Reporting module – generate detailed, bespoke reports, access over 100 pre-defined management reports or run multiple reports as a batch to analyse past performance and plan for your future success
Time recording – with credit limit monitoring, unlimited attendance note capacity and the ability to log chargeable or non-chargeable activities, the time recording module gives you an accurate representation of work in progress
Legal accounts – at the heart of Quill Interactive is our legal accounting engine designed specifically for legal bookkeepers to perform daily postings and full ledger management in compliance with the SRA Handbook, Solicitors' Accounts Rules, HMRC, LAA and Lexcel guidelines
Customer Relationship Management (CRM) – central store of your client and case information with instant access to contact details, including links to Google maps, plus statutory requirement functions such as anti-money laundering, limitation dates and conflict checking for risk management purposes
Download a product datasheet for full details of the multiple features and benefits of Quill Interactive.