Accesspoint Legal Services - Getting your client's journey started the right way with Digital Client Onboarding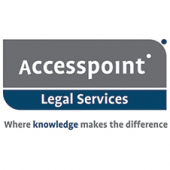 It's easy to overlook something as important as onboarding new clients when SME firms all continue to struggle with hectic work schedules, deadlines, and reduced manpower during a second lockdown.
However, your firm could explore ways that will not only take the pressure off the team but also ensure that new clients are met at the virtual doors of your firm with open arms, and a seamless start to their legal journey. Remember, for many it could be their first time seeking legal advice and hard to use websites or cumbersome back and forth onboarding processes should be the last thing any client should encounter and potentially, if faced with that problem it could be what drives them to a different firm.
Our Digital Client Onboarding Package can provide your firm with a number of choices to take on new clients remotely and with ease.
What your firm can expect
Reduced time and resources - The digital onboarding package allows your firm to work in a more efficient manner as it facilitates clients with the tools to self-start their own journey and input important information securely into Tikit P4W. This removes the headache of wasting precious time and resources from your firm as your administrators no longer need to manually re-input the data into the case management system.
Improved client journey - The user-friendly interface is perfect for clients who prefer a quick, easy to navigate system that can be finished at a time that suits them, as the web form allows clients to revisit the page they left earlier and access the form from any device. No longer will new clients have to trek into an office or post countless forms to a firm in order to get their case moving, now they can experience an enhanced journey as they self-start the process from the comfort of their own home or when they are on the go - ensuring a smooth and convenient process for all.
Flexible and streamlined workflows - Our package is completely flexible and can be adapted to your firm's requirements plus the fields housed within your P4W case management system. This can open doors for your firm as areas such as family law, commercial law, litigation, wills & probate and more can easily be accessed via your firm's own website by clients. Web forms with customised data screens are submitted by the client and injected directly into the firm's P4W Practice Management System, auto-creating clients, and matters and importing the valuable information completed by the client into the case management data fields ready for processing.
Onboarding new clients is arguably the backbone to keeping your firm running at a high level, as face to face meetings become a thing of the past and client expectations continue to change, the need for an innovative solution is now.
Interested?
For more information or a demo please contact Hong Tran- hong.tran@theaccesspoint.co.uk
To read more please visit- https://accesspoint.legal/digital-onboarding-package/