Case closed: Clio on how a cloud-based CMS improves efficiency for law firms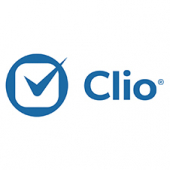 There are two real advantages that most law firms are discovering when they use case management, says Joshua Lenon, lawyer-in-residence at Clio – the first is centralisation of information and the second is efficiency gained because of that centralisation.
With the advent of the case management system (CMS), which was for a long time really only available to the magic circle firms, he says the market eventually started to see lawyers adopting it at scale and finding they were saving hours a month on administrative tasks. "Clio, and other cloud-based platforms, enable lawyers to work not just from their office on a CMS but also from home, on their mobile or tablet, wherever they are.
"As the CMS evolved into the cloud space, we saw those efficiency gains really spike and now lawyers are saving hours a day on administrative tasks. They're able to use that time on what's important to them."
Lenon says the possibilities are endless – that time gained could be spent on obtaining more business for the firm, investing more time developing their skills as a solicitor or even spending more time with the family.
All about that data
In order to take full advantage of a CMS, or any technology for that matter, firms need to have good data hygiene – data entry is the first step. One thing to consider is does the vendor accepts common formats for data – for example, Outlook is incredibly popular among lawyers, he says, so making sure that the CMS actually accepts contact information in that format will rapidly increase the speed of migration and data hygiene.
Data extraction is the other side of that coin. He says: "This will be incredibly important based on rules or record retention as well as just keeping your business running smoothly. Never put your data into a tool that you don't know how to get it out, and a good CMS will walk through both migrations – into and out of the system."
But the fun shouldn't stop there, Lenon says. A good CMS will also allow firms to use data in multiple locations.
"Document automation is a good example of how firms can take data leveraging to a whole new level. Rather than working with simple mail merge functions, we can now work with templates in the CMS, which allow fields to be populated with client information automatically, where needed.
"You can track a much wider range of information than you could if you were still spreadsheet-bound."
For instance, data from a conveyance can be leveraged to a much greater extent and can even be integrated with highly-specialist tools. Clio has a plug-in tool called Klyant, which will take all of
the information imported from Outlook, or entered manually, and turn it into a conveyancing package automatically.
He adds: "This capability is just not possible if your information is siloed into different tools – such as across Word, Excel and Outlook."
And this good data hygiene and ability to leverage data automatically will mean better knowledge management across the firm, he says. Again, this creates efficiencies where time can be allocated to added value.
Making choices
There's nothing worse than purchasing software and then never using it, Lenon says, it's a waste for staff and bad for business. "When deciding on a solution, don't just look at the features but the
whole interface. Make sure it can be customised to your workflow and that it's something you want to take the time to know."
A CMS shouldn't impose any limits on the firm in terms of the number of cases, contacts or documents, because those are all highly variable and will increase at a successful law firm, he says.
Security is the obvious next point. Lenon says it's very easy for third-parties to audit vendors, and vendors should be providing their security certificates so firms can see when they were last checked, how frequently and what types of checks those are.
He says: "Once you're happy with the system, its capabilities and security, it comes down to the type of law you practice. If you're handling high-volume, how easy is data entry? Can you shift that workload onto your clients themselves and can they enter information securely? Taking this time off your hands allows you to focus on analysis.
"Accessibility is a huge issue – both for clients and lawyers. Does your system consider people with vision difficulties, for example? Cloud is actually making their lives better because its standards adhere to the accessibility standards for people of all levels of ability."
Full leverage
There's a hunger in the SME legal market for this type of software now because of the advantages of scale coming from cloud-based versions, Lenon says.
For a long time, fee earners used paper files, email that was run on a local server or information stored in an individual's laptop – they'd use Excel or some type of spreadsheet program for tracking their time and then they would generate bills by hand.
And that was pretty sufficient for many firms, he says, simply because of the difference in volume of work at that time and regulatory requirements weren't as onerous as they are now.
He says: "The regulatory and other environment changes are only accelerating right now. As the security needs of technology also rapidly advance, what we see is not just an appetite for centralisation and efficiency that come from a CMS but also the peace of mind that comes with a good provider. You need that trust."
It's vital now, more than ever, that firms know exactly where their data lies. "If you don't know where information is, how it's organised and used, then you can't actually make a sound judgement about your data and what steps you need to take as a legal professional or business person – and that can hurt your reputation and lose you clients," Lenon warns.
For a successful modern law firm, efficiency is key. SME law firms should take advantage of drivers in the market, whether that's GDPR, Brexit or other, and explore how a CMS can improve data hygiene and therefore legal service delivery.
This article appeared in Briefing May 2018. Read the full edition of LPM May: Got talent? here.