Comparing the costs- analysing the total cost of ownership of Clio vs. traditional desktop practice management solutions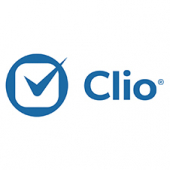 Download the PDF on comparing costs by Clio in full here (you will be asked to register your details on the next page).
Introduction
Increasingly, attorneys are considering cloud-based legal practice management systems as an alternative to traditional on-premise software. In comparing the two alternatives, they must analyse two different cost models: the monthly subscriptionbased fees of cloud computing offerings versus the up-front purchase and ongoing operating costs of on-premise software.
At first glance, many attorneys assume that the ongoing fees associated with cloud-based software will surpass those of an on-premise solution over time. When examining all of the direct and indirect costs involved in an on-premise solution, however, it becomes clear that cloud-based practice management software offers a compelling, long-term cost savings over traditional desktop-based software.
Often, attorneys focus solely on the acquisition costs involved in making their purchase decision; in reality, each of the programs they buy require significant investments in terms of time and money for customization, installation, and ongoing operation, and these costs are just as much a part of the total cost of ownership for a new software product as the up-front purchase price. Our goal in this whitepaper is to provide additional insight into the total cost of ownership of using Clio versus many of the existing practice management solutions on the market. Unlike most of its predecessors, Clio is not a desktop-based software program that requires installation, maintenance, and upgrades. It is 100% web-based and runs on the cloud. This means that both its software model and subscription pricing are paradigmatically different from the traditional software norms.
Consequently, the cost comparison between a PC desktop-based solution and a cloud-based or Software-asa-Service (SaaS) solution like Clio is not "apples-to-apples". Traditionally, legal practices that purchased a desktopbased software program faced a familiar acquisition model: an up-front purchase that varied based on the number of users, set-up and installation, and ongoing support and maintenance contracts for their particular version of the software package. On a regular basis, typically one to three years, they would then have to upgrade their program to the latest version by purchasing new licenses, contracts, and essentially start the product life cycle and amortization period anew. With Clio's SaaS model, attorneys are only required to pay a monthly subscription fee that is all-inclusive of the above mentioned services; there are no updates or software to install, no servers to run, and unlimited access to support and maintenance as part of their subscription. This allows them to save time and run a more effective practice, while also saving thousands of dollars in the process.