How well connected are you?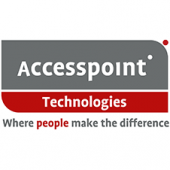 Gary Shaw, Marketing Director, Accesspoint Technologies
A question asked many times over, but in this context it's one that many smaller firms regularly fail to ask themselves.
Fact:
If you want to become a serious user of the online world it's neigh on impossible when all that stands between you and the offline world is a single pair of copper wires costing less than a mobile phone bill (circa £40/month).
Standard broadband should rarely be the connection type of choice as it is not a business tool. Your connectivity is of paramount importance especially if you are serious about using online applications and the 'Cloud' to better your firm's performance, efficiencies and awareness.
Standard broadband is not usually supplied with guaranteed levels of support for times of failure and it is highly possible for firms to go offline with their email and such like for days on end because of broadband failure. Fibre-based broadband is now a good option and readily available and it can be cost effective, plus depending upon quality, it can also be much faster. However, again be careful, look for a dual backup solution with guaranteed service levels or better still, make the move towards business-based products such as Ethernet. You should consult and consider all your options with your ISP.
Your cloud or hosted solution inevitably gives way to lots of opportunities and with it opens many new doors. If you are buying a fully managed server platform, it is now possible to make use of software such as Microsoft Office with no capital outlay and seldom any upgrade costs, sometimes classified as 'software as a service' (SaaS), or put another way, software that we consume and pay for on a monthly basis, delivered as a service. SaaS in various forms has been around for quite some time, with a great example of this again being your email (Hotmail, Gmail etc). Many of us have such accounts, though the cost per month for the service in this instance is zero. Despite being free, the service is invaluable to all it's users due to the nature of the content that it carries, yet many users will overlook the delivery lifeline – connectivity. Yes, we may all be socially and through business well connected but without the basics in place, all may become disconnected at the time when we most need it.
Most law firms when considering 'the cloud' do so when their servers or infrastructure are severely aged, out of warranty, in need of replacing due to persistent failure, or have collapsed completely. They've heard that it's much cheaper not to replace their ageing infrastructure and servers and instead rent them from the cloud, which incidentally is not always true.
Consider this. If your firm buys a server or a number of servers perhaps costing on average £3k to £4k each, and you run them for eight years, as well as running your Microsoft Office suite for five or more years after Microsoft have served an end of life notice on it, then the cloud cannot possibly be cheaper. A cloud or hosted solution may to some degree save on an initial capital investment, but what's more important is that view of the bigger picture. That change in mind-set, geared to the importance of IT in your future strategy. The cloud allows you to use the latest hardware and software continuously and many law firms have seen this as a key to their success but in some instances taking broadband fore-granted and risking all with unreliable connectivity.
If your firm has a server replacement and an office software upgrade programme in place, perhaps ensuring that servers are replaced every three or four years and that your Office suite is rarely older than three years old, you should find that a cloud solution will stack up favourably both in financial and operational terms.
It's not always about cost and the spending of hard-earned cash. In many cases it's about investing time, effort and discipline into the broader use and development of what you already have and what you need to maximise and protect your wider investment. Combine this with a little common sense around the basics and see how well connected you and your firm can become, gaining the benefits from 'reliable' online activities.
High quality advice is out there and worth noting is the LegalDC which is 'Dedicated to Legal' and provides Tier 1 and Tier 2 carriers offering high-speed connectivity services to different networks and Internet exchanges globally.
Also if you are considering a move to the cloud and a new way of working, then in the correct circumstances banks are very much open to discussion and for lending to the Legal sector. They are backing modern practices with strong management, a track record of profit retention and a recognisable technology investment programme.
So moving forward think carefully about what underpins your investment and ultimately what makes you connect with your clients and the rest of the world – Just how well connected are you?