Quiss Technology explains - The merits of a Unified Communications solution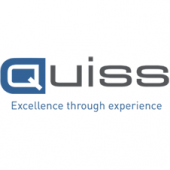 UC is constantly evolving and now delivers features that make any firm operate more effectively and more efficiently. But for those still wavering on the value of a conversation about the specific benefits of UC for their organisation, here's a few to consider:
Intelligent call routing
UC solutions are now on a different level to traditional call forwarding. They allow you to forward calls using specific routing rules you define, to make it easier to prioritise and manage your calls.
Specific calls can be routed to a colleague, while other calls are routed to voicemail or forwarded to a mobile device. You choose, in fact each user can choose their own rules.
Software integration
UC allows you to merge your phone system with software you use to run your business, like Office365, CRMs and databases to not only simplify making calls, but collecting data.
By integrating your communications with your core business processes, you will increase productivity and help improve customer satisfaction. It's good to talk.
Making more of mobile
The modern workforce is more mobile and expects to work anywhere, anytime, with any device and now mobile apps simply convert any of the devices your people use to their desk phone.
UC features, like single-tap conferencing, will work on most tablets, laptops, smartphones and for the latest generation, even wearable technology and are all designed to keep everyone connected.
Because collaboration works
A collaborative workforce is an efficient and effective one. UC solutions eliminate fees for third-party applications, typically working with the Microsoft applications you already use to run your business.
Instant access to audio-conferencing, video conferencing and instant messaging with document sharing and desktop sharing, makes it easier for employees to access and connect with each other.
Access your calendar
The right UC solution will integrate with Outlook and help you stay on top of all the events you add to your calendar. You can also automate invitations and access all your contacts to make it easier to use call, chat and other relevant communications tools.
Secure instant messaging
Instant messaging helps connect colleagues wherever they are in the world, but often relies unsecured and unmanaged programmes. Managing the IM needs of your workforce with the right UC solution brings it into line with your other communications on a secure channel.
Keep what matters
Choosing the right UC solution will not only bring your people closer together, but helps protect you and your employees too. Users can save instant messages, call recordings and conference calls, with easy to access archiving, all of which allows you to review and improve your processes.
And finally, what's right for you
We can help you choose the right UC solution and remember it can be cloud-based, hosted on-site or we can create a hybrid combination of the two, if that's what your business needs.
By integrating UC seamlessly and securely into your network, we offer you a lot of flexibility to manage the system, keep your overheads low and free up valuable IT resources. Let's talk, you know it make sense: terry.faria@quiss.co.uk