HighQ Collaborate 4.3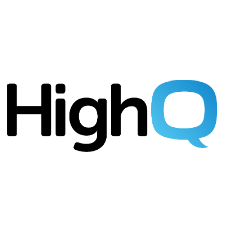 Build dashboards with drag-and-drop simplicity
With the newest version of HighQ Collaborate, you can create a site home page faster and easier using a dashboard builder that automatically optimizes the page for mobile devices. In just a few clicks, you can add sections with rows and columns to a dashboard layout without creating complicated tables or writing a single line of code.
Add dynamic content lists from Files, Wikis, Blogs, Tasks, and other Collaborate modules as panels that you can incorporate quickly into any section, making it simple to assemble even complex designs. And with the addition of a data visualisation panel, you can include an animated, graphic depiction of important metrics to any site dashboard.
Visualise data from your site dashboard
So you can quickly consume data that's most relevant, HighQ created a new data visualisation panel. From any site home page, you now can visualise the meaningful data contained in iSheets and sites as animated graphs and charts.
Intuitive panel settings enable you to easily define the data you want to present and how you want to display it. With 14 different graph and chart types to choose from, such as pie, doughnut, column, bar, line, and area, you can find the best way to visualise data in just a few clicks, with no coding required.
Whether you want to view real-time financial figures, instantly evaluate the status of a project, or see other important analytics, your valuable data is always available at a glance on every device.
Administer your HighQ system more efficiently
With many usability improvements, the newest version of Collaborate makes it even easier and more efficient to control your sites. Site administrators can manage users, groups, passwords, and other settings from mobile devices, and a Site Admin module redesign make settings simpler to find and use.
A few enhancement examples include the ability to set default sort orders, views, and permissions for folders so that you can establish the settings once and apply them sitewide, saving time and steps. And a new option to show terms and conditions (T&Cs) the next time a user logs into the system offers flexibility for situations where T&C changes need to be reaccepted.
Add new HighQ functionality into Microsoft Outlook
For users of Outlook, you're now able to file emails and save attachments directly into Collaborate using the latest version of the HighQ Drive Add-In. Simply drag an email message or attachment from your Inbox into a HighQ Drive folder in the Outlook Folder Pane or click File Email or Save Attachments in the toolbar to access more advanced options, such as saving the email to multiple folders.
Apply extra protection to files in their native format
HighQ has partnered with Seclore to provide advanced, secure, and connected rights management (DRM) functionality—delivering an additional, persistent layer of protection for shared and downloaded files. You can encrypt and protect files in their original format (for example, Excel, Word, and PowerPoint), so people can work with them in the applications they're most familiar with.
This enhancement also allows you to set broader usage permissions beyond just viewing or editing a file while ensuring that it's always protected. So wherever a file goes, including personal mobile devices or another cloud service, access permissions are continually enforced.
Integrate Workshare Compare Everywhere technology
For HighQ customers who also use Workshare Compare Everywhere, you now can access Workshare's comparison experience directly from within Collaborate. You must have a valid Workshare Compare Everywhere license to enable this feature.
Add more capabilities into your custom solutions
This release includes extensive APIs for iSheets and Tasks as well as the ability to manage users, groups, and permissions at the site level using the API. The updates open up new possibilities for clients and partners who develop custom solutions with HighQ and integrate Collaborate with other systems.
Find out more here.