Briefing on: Risk management in law firms in 2013

Risk leaders, your time has come
How can risk heads ensure they have oversight of risk in their firms in 2013 when the benchmarks are so unclear?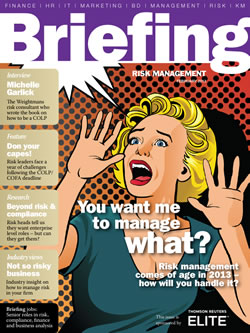 Risk isn't just for risk heads anymore - it's everyone's challenge now. This issue of Briefing analyses what COLPs need to know and do to ensure compliance in the new world of OFR, covering better reporting, referral fees, risk teams, international business standards, how clients are now driving compliance, and the need for a global view in an increasingly global legal market.
There's also the results of our snap survey of the top 100 risk chiefs' on whether they should now be responsible for all things risk in a law firm, and we print a list of all top 100 risk leaders – an industry first - and wise words from suppliers of risk-related solutions.
There's plenty for everyone who's touched by risk, from HR to IT and beyond.
(this is a 9MB file - right click and 'save as' if you want to read elsewhere, or if you're having problems downloading)
What's in this issue?
Interview: Rupert White talks to Michelle Garlick, Weightmans' risk and compliance practice head, and consultant and author, about how the new compliance officers will cope with their roles, how to get a better overview of risk in your firm, and who might be first in the SRA's firing line...
Feature: Compliance officers, take your places... 2013 sees new roles, new responsibilities, new titles and new challenges, from global growth to embedding risk in fee earners' KPIs - Rachel Davies opens the door on a new world of risk and compliance. Includes interviews with risk chiefs at Clifford Chance, Clyde & Co, Eversheds, SNR Denton, Penningtons and Pinsent Masons.
Plus: Our survey of the UK's top 100 risk heads' views on whether they should be responsible for a wider range of the risk issues in law firms. Answer - yes. But will it happen?
Sign up to receive Briefing every month
>> Missed an issue of Briefing? Download them now
Visit the Briefing home page where you can download all our back issues.
Download the Briefing media pack to find out how you can be involved in Briefing's future.
Any problems?
Having problems downloading Briefing? Email David or email Stella and we'll email you a copy instead.