Anatomy of a technology refresh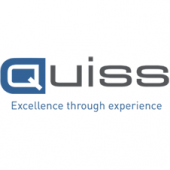 Planning calms the nerves
Included in all our Qworks comprehensive managed IT services contracts is a technology refresh after four years. Although contracts are typically much longer, our experience determines that this is the optimum time to change all the equipment and exploit newer technologies.
This is a daunting process for any client. But our law firm clients are always particularly anxious, given the huge volume of confidential data they hold and the time-sensitive nature of their daily activities, which would suffer with even the shortest interruption of business as usual.
Perhaps not unsurprisingly, detailed planning well in advance of the physical refresh helps ensure a smooth transition and a more relaxed client.
When the project requires all computers to be loaded with a new operating system in advance, or a switch from thin to fat client (or vice-versa), it's no wonder we spend months preparing. A refresh is not just about sending new laptops and hoping they work new out of the box.
A project of this scale involves not just the client's systems and infrastructure, but to mitigate risk and manage every detail, from procuring new equipment to booking hotel rooms for all our technicians.
A refreshing change for Ashtons Legal
Ashtons Legal is a full-service law firm, with more than 380 committed professionals operating from five offices spread across East Anglia; Norwich, Ipswich, Thetford, Bury St. Edmunds and Cambridge.
The refresh is designed to support the firm's IT strategy, proving a good time to adopt a new approach, like replicating servers to Azure, or switching from thin-client to fat-client machines, which allows users to be more self-sufficient.
The planning started more than two months ahead of the planned date for the refresh, which was set for a weekend in January, when our technical team would take over all the sites and deploy the new equipment.
This wasn't just an equipment change for the sake of it, as a migration to Microsoft Azure of the firm's back-up and disaster recovery solutions, was being undertaken at the same time.
An upgrade to the Windows 10 operating system was also part of the specification and applied to each machine by our technicians in Tamworth. Every build was checked prior to our vans heading east, to lessen the risk of any last-minute problems during the install.
The 300 new fat-client PCs supplied were HP ProDesk 600 G4 SFF i5-8500 8GB, which were complemented with 150 HP EliteBook 840 G5 i5 8GB 256GB SSD laptops and Ultraslim Dock.
Across a large proportion of our law firm clients, we have witnessed an increase in the demand for high-quality laptops to meet the need of a more mobile workforce, delivering an improved, more collaborative service to their clients; anytime, anywhere.
A long weekend for technical engineering team
Our rollout plan involved 23 Quiss technicians being on-site across Ashtons Legal's five offices, arriving after the lawyers had left for the weekend at around 5.30pm, with a single site manager left to control our access to the premises – we never lose sight of the need to maintain security.
The site owner has a copy of our project plan and was briefed to facilitate the extraction of the equipment, which ran from arrival until about 10pm on the Friday night, when our tech teams headed for their respective hotels, discussing any matters that might affect the smooth rollout.
Saturday began early, with our team on site from 8am, working on all the offices simultaneously, to ensure the entire refresh would be completed when the offices opened on the following Monday.
All the old computers are removed and returned to our secure archive facility where they are held for a pre-defined period, in this case three months. Managed risk is a critical part of the process and experience has taught us that, despite all the planning, a critical file or email often needs to be retrieved from an old machine.
Once the three months' quarantine period has elapsed, all the hard drives are removed from the machines, so they can undergo a managed disposal, which usually involves destruction and shredding, with a certificate to demonstrate the integrity of the process.
The 23-strong Quiss engineering team is on site for approximately 32 hours (736 man-hours) across the weekend, installing, connecting and checking everything works as it should.
Once the new equipment is in place, from fat-client desktops to WiFi routers, the network is switched back on with everything connected and we enjoy the benefits of good preparation well in advance of the switch being flicked.
Floor-walking instils confidence
With everything in place and every individual machine, desktop or laptop, working properly and connecting to the on-premise servers, our technical teams head back to their hotels for a well-earned rest, taking all the rubbish with them – we always leave a site better than we found it.
Our job is not finished however and while the majority of the team heads home on the Monday, we leave two technicians at each office location to walk the floors and deal with any minor issues the users might have.
These issues will typically involve the new Windows 10 environment or new equipment features etc., rather than technical issues with the network, which has been thoroughly tested prior to the offices opening on the Monday.
Given the workload of Ashtons Legal's lawyers, it is no surprise that they need to start work when they get to the office and not worry where files are, how they connect to them or what Windows 10 means to them.
Having two of our highly qualified technicians, experienced in the legal sector and its independent software providers, on hand to answer any questions is a service designed to take away the fear of change and instil confidence in our work.