Industry case study from Accesspoint Technologies: Driving migration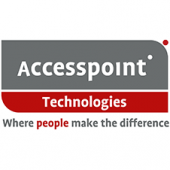 This article was originally featured as an industry case study in the November 2017 issue of LPM. To read the issue in full, download LPM.
London-based immigration boutique LUPINS has a core business objective to become the most renowned firm for all aspects of immigration and nationality law. Lawrence Lupin, founding director and head of the firm, says the key to this goal is making legal aid more cost bearing and shifting the business's focus onto private client work.
"At the moment, we're probably better known in human rights and legal aid work. But because of the current economic environment and government cuts to legal aid, we've been trying to make that service more efficient while progressively focusing more on private work – such as acting for investors bringing £2m into the UK, or helping companies obtain sponsor licences to bring their employees over."
He adds that, as part of this future development, the firm needed the best systems in place to help drive efficiencies and deliver an exceptional client service.
"When the firm started 19 years ago we were quite ahead of the game because we had a cutting-edge case management solution. But technology has advanced considerably since then. There are far more products on the market, and we needed someone who could help us work out what would be best for our business."
LUPINS appointed Accesspoint Technologies to advise on and implement an array of new systems to attain competitive advantage in immigration work.
"We needed assistance to get us towards a paper-light office, to enable remote working and introduce video communication systems. As you can imagine, immigration is very paper-heavy and clients often need us to go to them, or to communicate with us over vast distances, so there were enormous gains to be made by introducing these systems."
But, Lupin adds, an exceptionally important improvement Accesspoint made to his legal business was helping it revolutionise its marketing strategy through its media services offering.
"As our relationship with Accesspoint grew we became more aware of how their team could help us with our brand. After an initial evaluation process, they instigated a full end-to-end strategic review. This highlighted major strengths and opportunities that we could build on while questioning our weaknesses. The results forced a collective management agreement about our longterm vision for the future, which resulted in a rebrand – including changing the name of the firm and launching a new website." He adds that, as a result, the firm has considerably improved its presence within the business immigration services market.
WHAT DO WE NEED?
Lupin says the firm had complex requirements for any new system it chose to invest in, and it would have been difficult to find one without Accesspoint's guidance.
"First of all, we needed something that would help us improve our legal aid delivery. It was important to be able to collect and analyse time reports to work out who was doing what and whether we had the right people doing the right things at the right time." He adds that it's vital for a legal aid firm to organise its time, and Accesspoint was capable of understanding that need and finding a solution that would deliver.
But, he adds, the firm also needed a system to enable flexible working.
"Our lawyers spend a lot of time on the move. For example, we recently got a call from a client who was about to be removed. We had to rush to the detention centre and liase with UK Visas and Immigration to prevent that from happening. It can be the case where clients just can't make it to the office and we have to go see them." He adds that having remote working systems enables fee earners to be productive away from the office – which drives efficiencies by making use of what was previously considered 'down time'.
Lupin says that Accesspoint also helped them find a system that offered a fully integrated document management and production system.
"We wanted one comprehensive system rather than several and the great thing about the solution Accesspoint found for us is that it can be integrated with numerous third-party solutions – and they only charge you for what you use.
"One integration was a document search solution that's helped us cut down our paper usage and made documents and content far more searchable. Lawyers can now find any of the documents relating to a matter remotely and quickly – which is important when they have to rush to a client." He adds that the system also enables the firm to easily send documents to clients stationed overseas for review, which saves considerable time and money.
"All of our private work is now completely paperless and that's really helped us stand out as a top provider in that market."
SYSTEM MIGRATION
More important than finding the right systems, says Lupin, the firm needed a partner to help it integrate new solutions into the business.
"You can have the greatest systems in the world, but if they're not implemented properly then they're not going to be of any use to you. And that's where Accesspoint really make a difference." He adds that the firm had a key internal manager to see the project through, but Accesspoint "filled in the gaps" and were integral to the project management process.
"They helped us enormously with the back-office side of getting systems in place. They had a lot of experience with implementation in other firms – including other legal aid firms that had specific requirements – and everything went smoothly."
Perhaps the key benefit of having Accesspoint manage the system migration was getting employees trained and used to new solutions. Lupin says: "Accesspoint provided a lot of intensive training before the systems went live. But they've provided it on an ongoing basis and developed systems stage by stage."
He adds that this process was also crucial for effective change management, since people as a rule are often resistant to reform. "I remember years ago when we went from manually writing notes to doing that on a computer, and lots of people just didn't want to do it. But by having Accesspoint teach everyone how to use the systems and helping management drill in the idea that change was happening, the transformation process was much smoother."
MARKETING MAGIC
A key challenge the firm faced despite its new systems was developing a stronger presence within the private immigration law market. Lupin says: "Legal aid isn't very well paid nor is it good for cash flow, as interim billing is severely restricted. Private work, on the other hand, is more lucrative and puts the firm back in control of its finances.
"Of course, we had developed our private client offering using our new systems but we needed to get the word out about our new and improved service to attract more clients." He adds that the first step to achieving that aim was to completely revamp their website, which was project managed by Accesspoint.
"They built a whole new website from scratch and handled imaging, rebranding, content and subsequent SEO and strategic marketing. They had suggestions about what should go on the homepage, how we should approach publishing testimonies, and the way the site should be structured." He adds that in the digital age a website is a business's first point of contact – and if the firm wanted to attract new private clients it was important to make a good impression.
"Lots of our potential clients are based overseas and the website is the only reference they have for the firm. And if the site's outdated and filled with information that's four years old and doesn't tell anything about you, it's not going to attract them."
Lupin says the website relaunch was also a good opportunity for the firm to rebrand itself as a modern business focused on high-quality immigration services.
"Your brand is equally important for communicating who you are as a business. We're a firm of 30-plus people, not just me working by myself, and specialise in immigration – so we changed the name of the firm from Lupins Solicitors to LUPINS Immigration to reflect that."
The firm has seen a considerable improvement to the quality of its enquiries since launching its new website. Lupin says: "We now have a lot more traction on Google searches for immigration law and far more serious inquiries that end up converted into sales.
"With Accesspoint's help we've also revolutionised our lead conversion process. We have senior people who handle inquiry calls and monitor our conversion rates and analyse how we can improve the process."
FUTURE DEVELOPMENTS
Lupin says the firm has made enormous progress in improving its legal service offering and breaking into business and private immigration to become the most renowned immigration firm, but there's more that it and Accesspoint can accomplish together.
"Plans with Accesspoint involve much of the same kind of improvements. We want to develop our software and the IT system itself, and in terms of marketing do more social media work on Facebook, LinkedIn and Twitter." He adds that the firm is also exploring the possibility of implementing a digital dictation solution.
"That might be the next step forward for us in terms of driving efficiencies and improving our service – but we're still very much in the exploration phase with Accesspoint at the moment."
And, he adds, the firm will likely seek to develop a stronger relationship with Accesspoint in the future. "Having Accesspoint on hand is like having a whole bank of knowledge and expertise at your disposal. It gives us access to resources that, as a small firm, we simply wouldn't have been able to afford otherwise."
"And we've learned an enormous amount from them. The people at Accesspoint are almost like mentors and they've really helped revolutionise the way we work, think, and portray ourselves in the marketplace."
Change is important for firms to stay competitive in a constantly changing market place. But in a world where technology is rapidly evolving, it can be difficult to know which systems are right for the business and how to implement them properly. Using technology to develop services is only half the battle to attaining competitive advantage – the other half is sending out the right message and communicating the added value of those services. Lupin says that having Accesspoint on hand to help them through this major transition was invaluable, and helped them to effectively achieve their aims.