Briefing Frontiers – From client matter inception to chatbots: The future of automation in legal business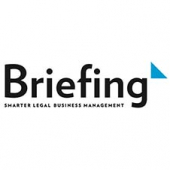 The future of automation lies both in redefining and streamlining processes in business services and in innovating traditionally bespoked areas of legal services delivery. From law firms building chatbot-based self-service systems for private and business clients to turning the finance function into a digital nirvana, automation spans the whole of tomorrow's legal business and every area of its work.
Core topic areas:
Finance systems/process automation
Legal process automation
Document automation/assembly
Machine learning/AI
Martech and marketing/BD automation
Risk management and control automation
Operations and business automation
Watch this space for more information about this event.

Who should attend? Leaders and decision makers from top 100 law firms involved in:
CEOs, COOs, CIOs, CTOs and CFOs
Directors and heads of marketing and BD, finance, HR, knowledge, risk/compliance and IT
Operations leaders and business managers
Strategy and innovation leaders
Transformation and change leaders
Information technology and business systems
Knowledge
Human resources and change
Risk and compliance
Facilities/real estate and telecoms
Transformation and change
Information security
Luminance sponsored our first Briefing Frontiers event and they "thought it was a fantastic and very interesting event all round" (Clara Murray, Luminance). Luminance CEO Emily Foges agreed when she said "this was an extremely targeted and worthwhile conference for us. We would definitely be interested in doing more of the same!"
Learn more about previous events in the Briefing Frontiers series:
Briefing Frontiers - From lawyers to legal engineers: Decoding digital disruption in law
Briefing Frontiers - Waking up to cognitive technology: Artificial intelligence in law firms
Additional Information/Speakers
Catherine Bamford, CEO and founder, BamLegal
Catherine is a legal engineer, and document automation and workflow design specialist with significant experience in the legal technology sector. Catherine works with the world's most forward-thinking law firms and in-house legal teams to improve their service delivery using market-leading legal technology.
Martin Blackburn, Sales director, Luminance
Martin has extensive experience in software sales, having spent the previous 20 years working for Cambridge Neurodynamics, Autonomy Systems and as part of the big data practice at Hewlett Packard Enterprise. During this time he has had responsibility for major accounts and held sales leadership roles. He holds a degree in business and marketing as well as a diploma from the Chartered Institute of Marketing.
Michiel Stoop, Legal project management adviser, Houthoff
Michiel specialises in project management, pricing (including budgeting and alternative fee arrangements) and change management. He has a key role in the development, improvement and implementation of a wide range of innovative legal project management tools and legal tech solutions. Michiel translates trends and developments into opportunities and services for both the legal and the notarial practice. He also has a legal background in corporate M&A and previously worked at a boutique M&A law firm.
Peter Saunders, Partner, Deloitte
Peter leads Deloitte's professional practices group and counts several of the UK's top 20 law firms among his clients. He is currently chair of the LLP SORP Steering Group of the Consultative Committee of Accountancy Bodies and was, until recently, chair of the 400-member cross-functional Association of Partnership Practitioners – an organisation which seeks to share best practice and knowledge among advisers to partnerships. As well as meeting the needs of his audit clients, Peter frequently advises on mergers, acquisitions, remuneration, profitsharing and partnership disputes. He has also been significantly involved in a number of expert witness cases in connection with frauds and professional negligence.
Richard Keenan, General counsel, UK commercial transactions, BT
Richard Keenan is the general counsel of the UK commercial transactions team. He has been with BT since 2008 and prior to that he worked for Freshfields Bruckhaus Deringer as an M&A lawyer in its London office. Richard grew up in New Zealand and attended the University of Otago, where he gained a double degree in law and commerce before obtaining a rugby scholarship to Keble College, Oxford to read for a masters in environmental policy.
Rob Lankester, Document automation manager, Berwin Leighton Paisner
Rob is responsible for the global implementation and growth of document automation at BLP. Previously, Rob worked at Irwin Mitchell for over nine years, where he led several change initiatives and implemented document automation before taking on its management full time. He was named as one of Thomson Reuters' Automation Champions and his work has been featured in leading industry publications. He helps clients (both internal and external) to improve their processes, reduce turnaround times, manage risk and be more efficient through the use of automation. BLP believes that tech specialists like Rob are leading the firm's drive to become a game-changing firm.
Sarah Houghton, Document automation specialist, Hogan Lovells
Sarah Houghton has been document automation specialist at Hogan Lovells since June 2017. She is responsible for globally overseeing, implementing and increasing document automation across the firm, as well as measuring and reporting on efficiency savings. Previously Sarah held a document automation specialist role at Norton Rose Fulbright. She has substantial experience working with Contract Express and a number of other knowledgerelated platforms, including Neota Logic and HighQ Collaborate.