DocsCorp help staff send more secure emails with cleanDocs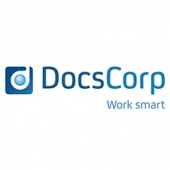 Register for this webinar to learn how to protect staff from disclosing confidential or sensitive information over email. Discover why removing metadata from attachments and having users confirm all recipients are correct can reduce financial risk and ensure compliance with regulations like the CCPA and the GDPR.
This webinar will also cover the new e-signature and email security features available in the latest version of cleanDocs. Users can now access additional send options from RPost directly from the cleanDocs interface, including encryption, track and prove, and e-sign.
This webinar will explain how to:
Prevent the disclosure of confidential or sensitive information over email
Ensure the right information is sent to the right person
Increase productivity with time-saving email workflow tools
Use additional new email security features from RPost inside cleanDocs
Set up cleaning policies using the simple Configuration Manager​